AC Milan fans go wild for Mario Balotelli arrival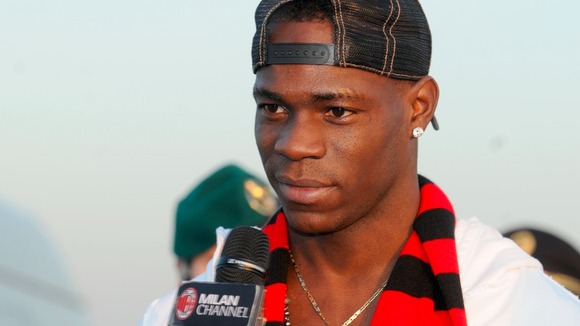 Mario Balotelli was heading to AC Milan's training ground this morning to complete his move from Manchester City after wild scenes greeted his arrival in Italy last night.
The 22-year-old had a medical yesterday but must still complete some formalities before he officially becomes a Milan player.
But that did not stop fans turning out in their hundreds to greet him, with emotions boiling over as trouble erupted outside the restaurant where Balotelli dined with club vice president Adriano Galliani and coach Massimiliano Allegri last night.
Gazzetta dello Sport reported that one policeman was injured by a bottle as officers attempted to move the crowd away from the restaurant. The injury is not thought to be serious.
While there is not yet any confirmation that Balotelli has formally signed the four-and-a-half year contract the Serie A club have lined up, the AC Milan website was already today declaring the striker "one of us".
Yesterday, Balotelli briefly spoke to the Milan Channel after landing at the city's Malpensa Airport, saying: "I'd wanted to play for Milan for such a long time.
"Obviously I played for other teams and couldn't come. But when there was the chance, I ran."
Balotelli was also presented with a team shirt bearing his name and his squad number 45, the same number he wore at first club Inter Milan and at City.
Galliani, who accompanied Balotelli on the flight from England, said: "I certainly do not have to introduce Mario Balotelli.
"It is a dream come true and something that we all wanted, with the president Silvio Berlusconi at the forefront.
"With the arrival of Mario, we have strengthened our team a lot.
"We have worked so hard and Mario has been in our hearts for a long time and finally we have succeeded in signing him."
Balotelli had been linked with Milan since the transfer window opened at the start of the month with both Galliani and Berlusconi regularly speaking about the player.
It seemed City's valuation of Balotelli might have been a problem but the clubs are reported to have agreed a price of around £19million, rising to £22million.
That leaves City just short of the £24million they paid Milan's arch-rivals Inter in August 2010.
It remains to be seen whether Balotelli will be available to make his Milan debut in Sunday's game against Udinese at the San Siro.
He has actually played little football in the past two months, making only two substitute appearances since a dismal performance in the derby against Manchester United on December 9 due to a combination of selection issues and illness.
During that time he also threatened to take City to a Premier League tribunal in a dispute over a club fine, only to drop the challenge, and had a training-ground bust-up with manager Roberto Mancini.
They were not merely the latest in a long line of off-field controversies during his time at the Etihad Stadium, but also the ones which finally hastened his exit.
He leaves City after scoring 30 goals in 80 appearances and after helping the club win the FA Cup and Premier League title.
His contribution was not insignificant but he will be equally well remembered for his four red cards, clashes with team-mates, brushes with discipline and other misdemeanours.