PSG confirm signing of David Beckham on a five-month contract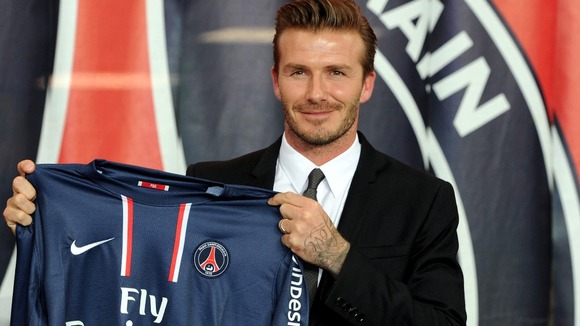 Paris St Germain have confirmed the signing of David Beckham, on a five-month contract.
Officially unveiled in Paris, Beckham announced his salary at PSG will be going to a French children's charity.
Beckham also revealed he will need to work on his French after his move.
"I'm definitely going to have to brush up on it. I'm excited, it's something we've working and talking about for quite a while and now it's finally happened. My wife and children will be staying in London because my children go to school there now."
He added: "I chose Paris because I can see what the club are trying to do, I can see the players the club is trying to bring in."
The former Manchester United midfielder also admits that he doesn't expect to go straight into the team: "I don't expect to start every week, I have to earn my place in the team. I'm here to help the French league grow in the future.'
He has signed a five-month contract and confirmed the presence of Carlo Ancelotti and Leonardo, the head coach and sporting director, had persuaded him to join the wealthy French giants.
Beckham knows both men from time he spent on loan at AC Milan.
"I'm very lucky. I'm 37 years old and I got a lot of offers, more now than I've probably had in my career. I'm very honoured by that," Beckham said at a press conference.
"I chose Paris because I can see what the club are trying to do. I can see who the club are trying to bring in.
"It's an exciting city and now there's a club that's going to have a lot of success over the next 10, 20, 30 years.
"I'm very honoured I've been picked to be part of the future of PSG.
"Every club I've played for throughout the world I've been successful with.
"I was successful with Manchester United and always said I'd never want to play for another English club.
"I had a lot of history with Manchester United. It's the team I support and the team I dreamt of playing for.
"I'm very honoured by the offers I had from other Premier League clubs but I didn't want to play there unless it was for Manchester United."
It emerged this morning that the former Manchester United, Real Madrid, AC Milan and LA Galaxy midfielder, who won 115 caps for England and captained his country, was travelling to the French capital for a medical.
Beckham revealed the deal had been agreed in the early hours.
He said: "I think that this literally all happened at one o'clock this morning and was finalised when I got on the plane at 11 o'clock this morning."
He could not specify when he would be ready to play for his new club but, having had a spell of training with Arsenal recently, he said: "My fitness won't take long to get up to speed. A few weeks and I'll be up to speed."
Beckham explained his charitable gesture, saying: "I won't receive any salary.
"My salary will go to a local children's charity in Paris.
"It's something exciting and something I'm not sure has been done before."
Beckham said he had not identified a suitable charity yet, and could not announce how much they would receive, except to say it would be a "huge sum".
"It's something the guys will decide, but it's a very good figure," Beckham said.
"That's one thing we're very excited about, to be able to give a huge sum to a children's charity in Paris, it's very special."