Roberto Mancini: Man City are still in the title race despite nine point gap to neighbours United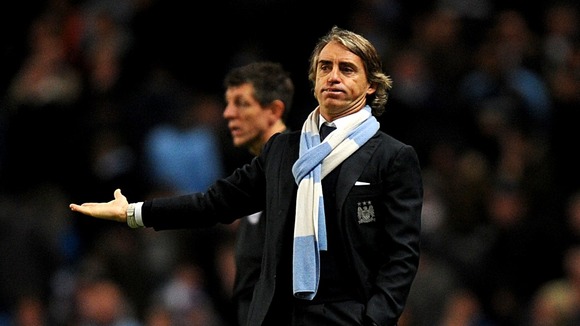 Manchester City boss Roberto Mancini insisted the Barclays Premier League title race was not over after his team's 2-2 draw with Liverpool this afternoon.
The result at the Etihad Stadium leaves second-placed City nine points adrift of leaders Manchester United.
And following the contest, Mancini told Sky Sports 1: "There are still 13 games until the end.
"No, (it is not over) - I think we can recover nine points."
Edin Dzeko put the hosts in front before strikes from Daniel Sturridge and Steven Gerrard to made it 2-1 to Liverpool.
Sergio Aguero then equalised in the 78th minute, capitalising superbly on an error by Reds goalkeeper Jose Reina.
Mancini felt aggrieved that play had not stopped in the build-up to Sturridge's goal after Dzeko was challenged by Daniel Agger.
He said: "I think Liverpool played a good game. We conceded two goals, stupid goals for me.
"But before the first goal there was a big foul - if it had happened with us, probably there would have been a red card.
"Instead, the referee and linesman did not see anything. In the end, though, I think it was the right result."
Asked if he felt Liverpool should have put the ball out when Dzeko was left on the turf by Agger, Mancini said: "Probably, because after this foul I think there were several seconds (before the goal).
"I think so, but this can happen. I think it was a foul and should have been a yellow card. The rules are the same for everyone always."