My favourite Brazilian footballer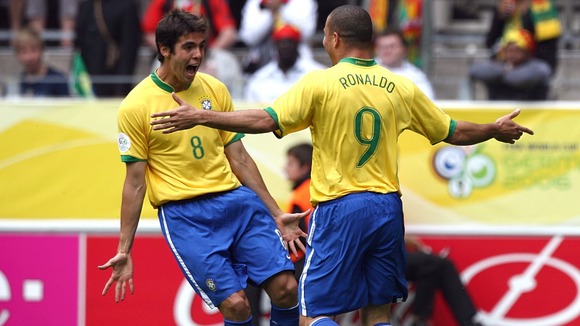 We asked a group of top journalists who their favourite Brazilian footballer is, and this is what they came up with.
Tim Vickery, South American football expert: Toninho Cerezo
The World Cup was cruel to him, but he ran the game with a creative joy not found in his successors in Brazil's central midfield.
Clive Tyldesley, ITV commentator: Clodoaldo
My favourite Brazil moment of all belongs to Clodoaldo, who scored a critical goal in the 1970 World Cup semi-final. But in the final itself, he is the number 5 who casually slaloms past four Italian players inside his own half by way of a taster for Carlos Alberto's defining goal. That lazy, languid cameo is like my favourite riff in the midst of my favourite album track. It is just one delicious detail in the most wondrous goal ever scored, and it never fails to make me smile. Thank you Clodoaldo.
Jack Pitt-Brooke, The Independent: Elano
Elano brought technique, style, imagination and the best free-kicks and penalties you will see to Manchester City. Not rabona-averse either.
Alex Netherton, Football writer: Rafael Da Silva
From his barely-legal erotic debut stylings of 2008, to his current performances: taking in bronca, reliability, a rare sense of joy and a real feeling for his club, everything about the man stimulates the senses. A true mensch. Possibly the only man who loves him more than me is his brother and husband, Fabio.
Matt Barlow, Daily Mail: Zico
Star of the first Brazilian team to come into my orbit and the very essence of what Brazilian football seemed to be about: making passes with the outside of the boot, bending the ball and scoring sensational free-kicks with a No.10 on his back. That said, my abiding memory of him is the penalty miss against France in Mexico 86.
Oliver Kay, The Times: Kaka
It is such a shame that injuries have restricted him since his move to Real Madrid because, for a time at AC Milan, he was unquestionably the world's best. Over a four-week spell in 2007 I watched him produce two sensational performances at home and away against Manchester United in the Champions League semi-final and then against Liverpool in the final. If the classic Brazilian player is more of a "street footballer", Kaka always seemed to be different: serene almost. It would be great to think that he could get back to something like that form.
John Cross, Daily Mirror: Ronaldo
If it's a player who I have seen in the flesh then it must be Ronaldo. Power, skill and an amazing talent. Fabulous.
Jacob Steinberg, Guardian: Rivaldo
That bicycle kick.
Marcus Alves, Brazilian football journalist: Romario
Romario once said that he wanted his career to end like it started: with nobody noticing. But that was impossible. Often described as one of the greatest player ever, he was a genius of the goal area. Also the best interview you could get. Always comfortable speaking his mind. A true Brazilian talent.
Daniel Harris, footballer writer (mainly for The Guardian): Josimar
When foreign football was but a rumour, the World Cup meant a collective frisson of surprise and wonder at the unknown. I know! Imagine! Such was the joy of Josimar. At Mexico '86. Brazil's reserve right-back pasted a pair of vicious vaporisers by unsuspecting keepers, flattering not a knowing nod, beam or hashtag, then vanished. Perfect.
Philippe Auclair, France Football: Socrates
Socrates, the most elegant of proofs that football is not all about winning.