Arsenal boss Wenger: Wilshere can replace duo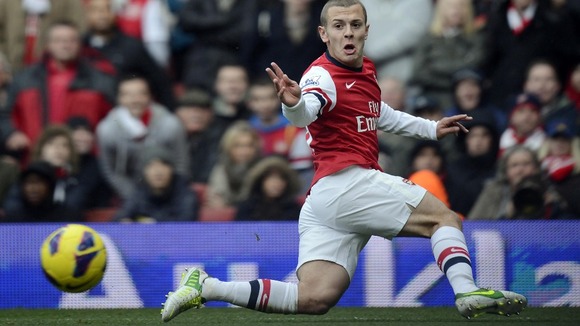 Arsenal manager Arsene Wenger has every confidence Jack Wilshere can emulate Steven Gerrard and Frank Lampard to become the heartbeat of the England team over the next decade.
Wilshere, 21, has just returned from more than a year out because of injury, but is already being heralded as an integral part of future hopes for both club and country following his man-of-the-match display in the win over Brazil at Wembley on Wednesday night.
While Wenger knows the progress of the combative midfielder must be carefully managed if the Gunners and Three Lions are each to see the best of the player over the long term, he is in no doubt Wilshere has the temperament to follow in the footsteps of his illustrious fellow England midfielders.
"I believe the best medication is to love to play football and to have inside you a burning desire to be as good as you can be.
"It happened before with Steven Gerrard when he was 21, this kind of player, the Lampards, they all managed it well," Wenger said.
"Why? Because they still play and what gets you through is to love to love the game, to love to be a better player."
England captain Gerrard is in no doubt Wilshere can become one of the greatest of his generation, while manager Roy Hodgson claimed "you can crank up the expectations as much as you like" following his Wembley display.
Wenger revealed he had discussed how best to utilise his player with Hodgson ahead of the game.
"We had no agreement. He told me if it is possible he would play him for part of the game, but I can understand," said Wenger, who side face Sunderland in the Barclays Premier League today.
"You play against Brazil, it is a prestigious game. Wilshere is on top of the game, you know what it is to have the desire to win the game, so you know with the quality of his performance that he will stay on."
Wenger is happy to allow Wilshere, who joined Arsenal at the age of nine, to see his game develop naturally - albeit now under the glare of public expectation.
"The problem for England is to produce a number of players like Jack. After you can share the pressure but, anyway, one will have to take it and to absorb it - it was like that with [David] Beckham, you had it in France with [Zinedine] Zidane," Wenger said.
"But even if you have a number of good players, one will be the figure and have to absorb the pressure. Jack certainly will be one of them."
Wenger, however, admits he must also ensure Arsenal do not become over- dependent on Wilshere.
He said: "I left him out at Brighton [in the FA Cup fourth round] and I will leave him out again in some games.
"But it is not easy because Jack has a burning desire to play every time and you know also that the rest of the team will want to play him because we are in the position where we want to win every game."