Everton boss Moyes confident ahead of Man United away day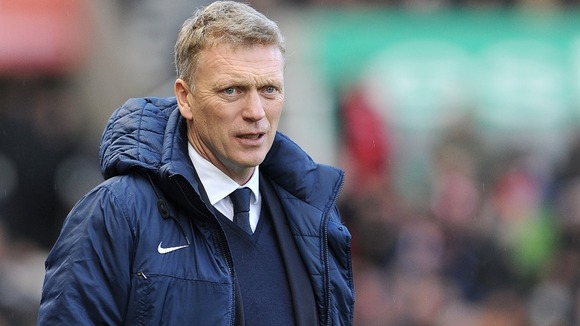 Everton manager David Moyes is feeling more confident about Sunday's away clash with Manchester United than he has ahead of any previous trip his side have made to Old Trafford.
Moyes, appointed as Toffees boss in 2002, is yet to oversee a win at United with the Merseysiders' most recent victory there coming in 1992.
However, they head into tomorrow's Barclays Premier League contest having drawn 4-4 on their previous visit in April and then defeated the Red Devils 1-0 at Goodison Park in August, a game which opened what has been a fine 2012-13 campaign for Moyes' men.
Everton, fifth in the table, have lost only three matches in the league all season and their manager is in optimistic mood.
"Someone told me it was 1992 when we last won at Old Trafford, so that tells you how difficult the task is," Moyes said.
"But we have been quite good this year in that we have not lost many games and always been in there.
"We won earlier in the season against Manchester United and we drew there at the end of last season, so we will go there probably in a better frame of mind and with a little bit more confidence than at any other time since I arrived here.
"We will go there and try to get a positive result."
Moyes also hopes the fact United are playing Real Madrid away on Wednesday in the first leg of their Champions League last-16 tie might prove a factor tomorrow, adding: "It will be a hard job for us, but with a bit of luck, maybe they might have Madrid on their mind for Wednesday night and rest a few players."
United have certainly recovered from the defeat to Everton at the start of the season.
Like the Toffees, Sir Alex Ferguson's side go into the 26th game of their top-flight campaign tomorrow having lost only three times - and yet they are 20 points better off than them, top of the table with a commanding lead over second-placed Manchester City.
The size of that gap between his team and United is something Moyes concedes he finds hard to get his head around.
"I have great respect for the manager and the way they run their club at Manchester United," Moyes said.
"I have to say, we think we are having a great season, and they are 20 points ahead of us right now.
"I'm shaking my head in disbelief, because we have got our heads down and battered on in every game trying to pick up the points and do the best we can, and we have not played too badly in many games this season.
"So it says a lot about Manchester United that they have 20 points more than us - and about the level you have to get to if you are going to really have any chance of competing to win the league."