Joe Corrigan: Rolled-up sleeves a problem for Man City No.1 Joe Hart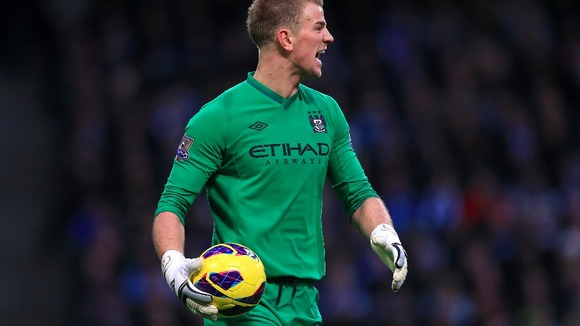 Joe Hart remains one of the best goalkeepers around, but does himself no favours by rolling his sleeves up, according to former Manchester City number one Joe Corrigan.
Blues stopper Hart produced a brilliant double save from a penalty against Brazil at Wembley on Wednesday night, but made a major blunder in City's 3-1 defeat at Southampton yesterday when he let a shot from Jason Puncheon squirm out of his grasp before Steven Davis stabbed the loose ball home.
Corrigan - part of the City side which finished league runners-up in 1977 and had won the 1970 European Cup Winners Cup as well as going to the 1982 World Cup with England - is in no doubt the modern-day kit has its part to play.
"Joe is a brilliant keeper, but what I cannot understand, and nobody has ever explained to me, is why with the ball being as shiny and moving so much, do goalkeeper wear short-sleeve shirts?" Corrigan said on BBC Radio 5 Live's Sportsweek programme.
"They have these new rubber latex gloves at one end of their arm and then they have skin between there and the shirt, which creates another slippery surface.
"If you look at the (Southampton) goal from behind, it shows the ball hit Joe in the area which was not covered by the goalkeeping shirt, so situations like this will happen."
Corrigan, who spent 10 years coaching at Liverpool until 2004, added: "It was a bad mistake, and while I am not putting that plainly down to the fact he rolled his sleeves up, I am just saying you need all the help you can get when you play in goal.
"You wear latex rubber gloves on your hands, but you still have this skin area which the ball can slip through."
Corrigan, 64, added: "A lot of them now cut the sleeves off and they end up with bare skin all the way up past their elbows.
"It is a lot harder (for a goalkeeper) now, because the ball they use today is so unpredictable.
"It moves so quickly, but so late - you can see the ball dip.
"When you see how many goals go in where the keepers hands are nowhere near the ball and that is because it moves so late."