Huddersfield temporary boss Lillis is counting on his youngsters to earn their FA Cup spurs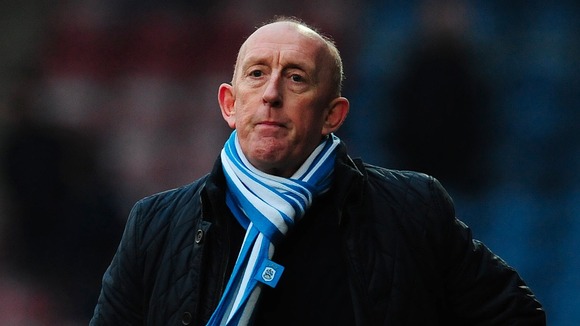 Huddersfield caretaker manager Mark Lillis is hoping the club's young players can take centre stage in the FA Cup fourth-round replay at Leicester tomorrow.
The Terriers travel to the King Power Stadium following a 1-1 draw in the original tie but are struggling with injuries.
Lillis will be without Jermaine Beckford whilst fellow forwards Lee Novak and James Vaughan are also struggling and he admits it will be a difficult task for his side to advance but wants them to set up a home match with Wigan in round five.
"There might be a few of the young lads who get a chance tomorrow night and what a great stage for them to represent the club," Lillis told the club's official website. "It is a very tough game, but we are going into the match confident that we can win. If we get through tomorrow night we have got a good game against Premier League Wigan to look forward to."
Lillis is pleased with the response he has had from the Huddersfield squad since he took temporary charge following the sacking of Simon Grayson and wants a positive result for the club's fans.
"Nigel (Pearson, Leicester manager) will know that we have got a team that works hard. The club isn't in turmoil and no one is unsettled.
"Everyone is focused on playing for the club and the shirt. The players have responded to me over the last three weeks and I hope that continues.
"Leicester has got a great squad of players and Nigel is doing a great job there. We need to embrace the night; we are away from home and we should have a decent following and we need to give it our best shot."
Town will go into the match in high spirits following a weekend draw against npower Championship leaders Cardiff whereas Leicester, who occupy second place in the division, suffered a surprise defeat at struggling Peterborough.
But Foxes midfielder Danny Drinkwater, who had a loan spell at Huddersfield whilst still on the books at Manchester United, believes Pearson will not let his players' heads drop.
"It's about the cup on Tuesday," he said.
"The gaffer won't allow there to be a hangover. That's one thing he makes certain, that we get on straight away and that'll start on Monday.
"It's the FA Cup. We've got a good opportunity to get to the next round and hopefully we can take it."
Wigan await the winners of the replay on Sunday afternoon with both sides hoping to continue past their top-flight opposition and into the sixth round.