Bundesliga review: Title race over?
by Ben Loder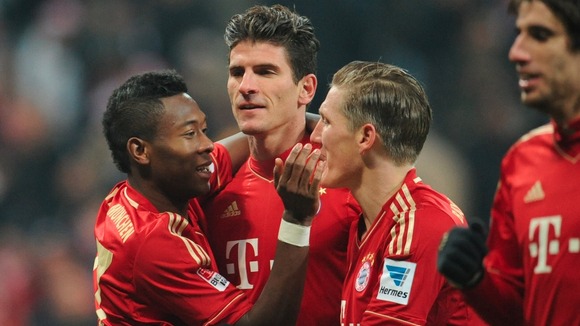 Watch this week's Bundesliga action on ITV Player.
Bundesliga match day 21 of the season most likely saw the title wrapped up once and for all, but at least it happened in highly entertaining fashion: there were 15 goals in the top-three's games, but only Bayern Munich recorded a victory, meaning the gap between first and second is now a record-breaking 15 points.
The Bavarians dispatched Schalke in style with a 4-0 home win, but the one-time Champions League hopefuls from Gelsenkirchen are not the most challenging of opponents at present.
The FAZ newspaper described Schalke as "a bereavement of a club" on Monday, and even general manager Horst Heldt seems to be gradually losing the will to play spin doctor.
He told the same paper: "The first goal was never a penalty, the second wasn't a free kick, and the third was offside ... but if they hadn't scored those goals, they would've just scored others."
Consistently inconsistent HSV are on the up again after a shock 4-1 away win at champions Dortmund.
Both sides were reduced to ten men, with Latvian Artjoms Rudnevs and South Korean Heung-min Son, a reported target for Liverpool and Tottenham, scoring two goals each for the visitors from Hamburg.
Former Spurs man Rafael van der Vaart made one of the goals and then made headlines byadmitting after the match that he had (successfully) tried to goad the referee into sending off Robert Lewandowski.
Dortmund manager Jürgen Klopp, not known for half measures, described the revelation as "the worst thing I've ever heard".
Bayer Leverkusen failed to take full advantage of Dortmund's slip-up, and stay third after a pulsating 3-3 draw in Mönchengladbach.
The away side dominated, and despite netting his 100th Bundesliga goal, striker Stefan Kiessling could hide neither his disappointment at the result nor a little disdain for the opponents, saying: "They had no real chances and only scored from set pieces.
When you work so hard and end up squandering the points, you just ask yourself 'why?'. I don't know what to say."
Gladbach will be happier with the result for the same reasons, but their incredible 24-year streak without a home win against Leverkusen continues.
Neither TSG Hoffenheim nor Greuther Fürth managed any points this weekend, but the two relegation-threatened sides can be glad to quite literally live to fight another day.
TSG's Luis Advíncula escaped with minor injuries after crashing his car into a tree last week, while Fürth's Gerald Asamoah was taken to hospital on Saturday after suffering an allergic reaction.
Asamoah later revealed that he has developed a strategy to avoid similar incidents in future: "I won't eat nut cake again," explained the 34-year-old.