Real Madrid boss Jose Mourinho: I'm not under pressure after 1-1 draw with Man Utd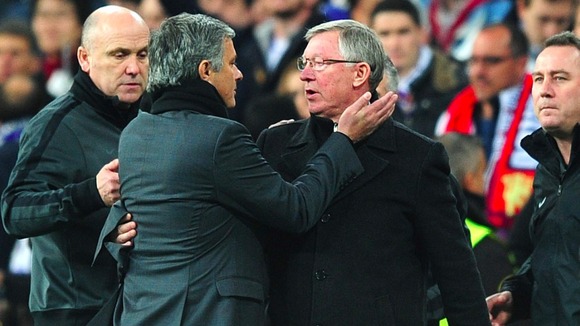 Jose Mourinho insists he is not under pressure despite last night's 1-1 Champions League draw between Real Madrid and Manchester United.
The Spanish giants failed to make home advantage count during their last-16 first-leg tussle with the Red Devils.
A series of fine saves from David de Gea kept Real at bay once Cristiano Ronaldo had scored against his old club to cancel out Danny Welbeck's first-half opener.
Trailing Barcelona by 16 points in La Liga, it is widely assumed Mourinho will find himself out of a job should the Spanish giants fail at Old Trafford in the second leg on March 5.
However, the former Chelsea coach insists he is not under pressure.
"I don't feel any pressure," he said.
"I work hard, am very serious and am happy with what I do.
"I have peace of mind and my head is high, but there is no pressure really.
"I have no idea (if his future depends on the second leg) and I am not worried about it."
However, Sir Alex Ferguson feels such an outcome would be very harsh.
"For Jose to be here as long as he has is unusual and a mark of respect for the work he has done," said the United boss.
"I don't know how many coaches they have had - 25? That's more than the years I have been here."