Brentford manager Rosler hopeful of FA Cup shock against Chelsea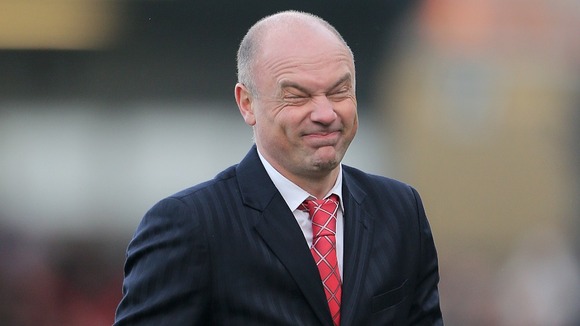 Brentford manager Uwe Rosler does not believe his side have blown their only chance to beat FA Cup holders Chelsea, although admits the opening 30 minutes of Sunday's replay will be key.
The Bees will make the short trip to their more illustrious west London neighbours this weekend for a fourth round replay that will live long in the memory.
Around 6,000 Brentford fans are expected to make the trip to Stamford Bridge, just three weeks after holding the European champions to a 2-2 draw at Griffin Park.
Only Fernando Torres' equaliser seven minutes from time saved Chelsea from one of the great FA Cup shocks, but Rosler believes an upset is still on the cards.
"I think first of all there will be a big factor of excitement going to Stamford Bridge," the former Manchester City forward said.
"I think excitement will take over and they will be very motivated. My players will raise their standards in terms of physical capabilities, hopefully by five to 10 per cent, which is needed to compete.
"Obviously Chelsea will take us more seriously than the first game and I am looking forward to what will be a great test for us, for everybody involved.
"I still believe it is possible. The chances are slimmer but I think it is still possible.
"The crucial thing for us is that we are competitive in the first half an hour.
"We need to keep it at 0-0 in the first half an hour, keep our options open and also be brave to attack them."
Brentford come into the match off the back of Tuesday night's 2-0 defeat of Stevenage, while Chelsea last night overcame Sparta Prague 1-0 in the first leg of their Europa League round of 32 tie.
Rosler has yet to watch that game as he spent Valentine's Day with his family, but knows what to expect when he watches the DVD later.
"We have to be compact, win the ball in the right areas and not make any mistakes," the German said.
"We need to counter them and the longer it is 0-0, the bigger our chance becomes because they will put more men forward and be more open.
"We will have players on the bench that can come on and change the game for us.
"Chelsea is a fantastic club and it is a fantastic opportunity for this club, everybody connected with Brentford.
"To play against such a big club like Chelsea is fantastic."
Despite the size of the task ahead of them, Rosler has pledged to approach the match just like any other.
That said, he is aware of his responsibility to keep his players calm, relaxed and focused.
"Never since I joined the club had a player late for a meeting, but before the first game two players came late," he said.
"It was not because they were undisciplined, it was because they were nervous and forgot to look at their watch.
"The excitement at times can take over and the big key for my coaching staff and me is to make them feel comfortable."
Jake Bidwell could feature at Stamford Bridge after missing the first game through suspension, but long-term absentees Kevin O'Connor and Farid El Alagui remain out.
Rosler also revealed several unnamed players are nursing less serious injury complaints.
"We have one or two knocks, although I won't tell you who it is," he added.
"We will make one or two changes, but in general, apart from our two long-term injuries, we have everybody available."