Roberto Martinez full of praise for Wigan's squad players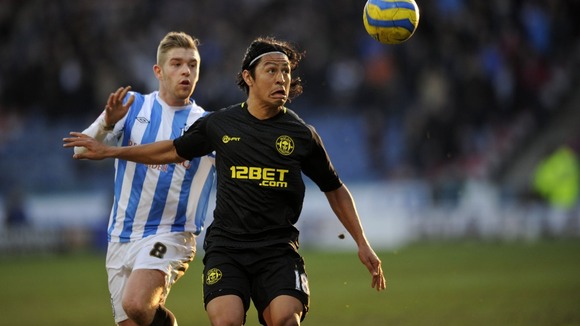 Wigan's fringe players have played themselves into contention for the rest of the season after turning in several class acts in their 4-1 FA Cup win at npower Championship side Huddersfield.
Manager Roberto Martinez made six changes for yesterday's fifth-round tie, but Wigan were still far too strong for a home side whose players were hoping to impress their new boss Mark Robins in his first game in charge.
Latics winger Callum McManaman, 21, a distant cousin of former Liverpool wide man Steve McManaman, striker Arouna Kone and big Spanish defender Roman Golobart were among those who returned to the side and were all outstanding for the Barclays Premier League strugglers.
Former Everton trainee McManaman, only told he would be starting on the morning of the game to safeguard him against nerves, scored a fine opener and helped set up both the second for Kone and midfielder James McArthur's brilliant strike early in the second half.
Kone, recently back from African Nations Cup duty with the Ivory Coast, slammed home an excellent fourth goal for Wigan in the closing stages to underline their dominance after Huddersfield substitute Lee Novak's header had offered his side brief hope, while Golobart was composure personified at the heart of defence.
When questioned about his changes Martinez, whose side reached the quarter-finals for the first time since 1987 and only the second time in the club's history, said: "If that's a weak squad I should play it every week in the league.
"This was not a weakened side. It was a younger side with less experience, but it was a side desperate to help the group and play more regularly.
"If we were top four in the league I'd say making changes is the wrong thing to do, but when you're in the position we're in with the points tally we've got, nobody's got a place guaranteed.
"These games are fantastic for anyone at the club to show what they can do and put in a really strong claim to be selected in the next game.
"That's the competition I want. When you make six changes and you see them playing with that cohesion and that understanding, it's time to consider them strongly to play in the next game."
Martinez is confident those players who returned to the side can kickstart Wigan's season.
"We've got some major challenges ahead and we're really looking forward to it," he said. "We're starting to get players back from injury and that's important.
"We've got 12 games left in the final third of the competition (Premier League), plus the sixth round of the FA Cup is something to really look forward to and you saw the fans here, excited, following the team in numbers.
"We're getting ready to finish the season in typical Wigan Athletic style and we're looking forward to it."
Wigan have been handed a fourth successive away draw in this year's FA Cup, with a last-eight tie at either Everton or Oldham awaiting them on March 9 or 10.
Huddersfield boss Robins, unveiled as the permanent successor to Simon Grayson in midweek, said he had seen glimpses from his new charges to give him optimism, but that he was glad his side would not be facing Wigan every week.
"Our performance was okay, it wasn't anything spectacular," said the former Rotherham, Barnsley and Coventry boss. "They caused us a lot of problems with the movement and their quality, it was tough. It was always going to be a difficult game."
Robins, who must improve on his new side's record of one win in their last 15 league matches if he is to keep them in the Championship - starting at Nottingham Forest on Tuesday - added: "There were some glimpses of some good football and decent movement.
"It's going to take a little bit of time to get the team set up how I'd like it, but there's some good quality in there."