Swansea boss Laudrup been there done that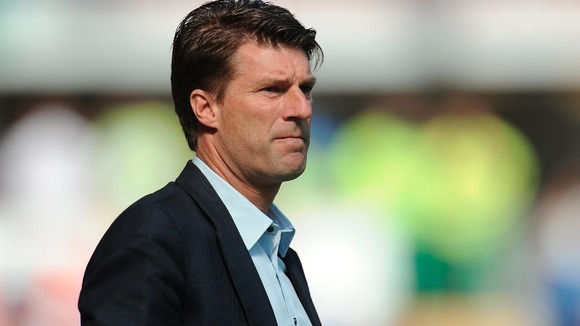 Sunday's Capital One Cup final will be Swansea's first appearance major cup final, but for manager Michael Laudrup it will be yet another showpiece occasion in a glittering career.
It seems barely credible that one of the finest European players of the last 30 years is in charge of the Swans.
When Laudrup was cutting his managerial teeth with Brondby during the 2002-03 season, Swansea were languishing in League Two, fighting for survival on and off the field.
A decade on and Laudrup can secure the Welsh club's first major honour at Wembley, 21 years after he helped Barcelona's 'Dream Team' win the Catalan club's first European Cup at the same venue.
That 1992 success was the highlight of Laudrup's silverware-laced playing career.
There were league titles with Juventus in Italy, Barca and Real Madrid in Spain and Ajax in Holland, numerous cup triumphs and Denmark's 1995 FIFA Confederations Cup victory.
His managerial career to date may have been less storied, but he won the Danish title and two cups with Brondby, and guided Getafe to the Copa del Rey final in 2008.
So while the meeting with League Two Bradford is arguably the biggest occasion in Swansea's history, Laudrup finds it easy to remain calm despite the hype.
"I know how important it is to the players, fans, and the club. But it is not the most important game in my life," he said.
"People are looking forward to it but everyone realises we still have a lot to do.
"What Bradford have done has been unbelievable and I am sure the atmosphere will be something different.
"Of course it is important, and to me it is very important because I know it matters to everybody else.
"But I have been there. Even as a manager, I have been in three finals.
"It's not my way to brag but when you feel you missed out on something it means maybe you feel you lacked something in your career, like maybe you had to retire because you were injured. I tried everything as a player so I don't have that.
"When you are with bigger clubs in the world, you are sometimes a little spoilt. They are used to having the best players and winning trophies, and you can take it for granted.
"But I know for the smaller clubs like ourselves it is not like that."
However, Laudrup admits to feeling an underlying excitement for his players as they prepare for their big day at Wembley, but expects any nerves to quickly disappear once kick-off time comes.
"When you play in big occasions I know that motivation is never a problem, sometimes you even have to tell players to take it easy.
"There will always be a bit of nerves, you always feel it. Every players knows when a game is something special. But after the first couple of minutes it should be a game like any other.
"We all know the build-up to these games is not normal and when you are in a situation for the first time you don't know how to react.
"I played in a lot of finals in my career. I think it was seven or right and it was fantastic.
"You get used to playing home or away, but a final is 50/50 and I am pleased the players will get the chance to try something so unique."