Warnock wants fans backing from Leeds fans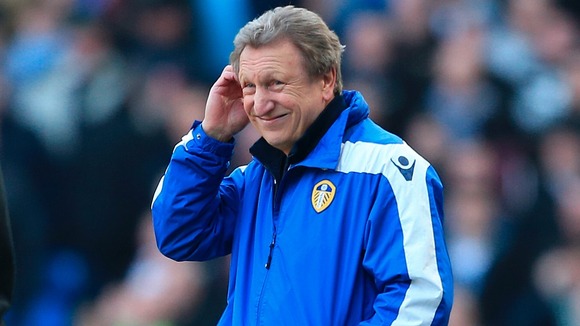 Leeds boss Neil Warnock has urged fans to put their feelings about him to one side and get behind his team when they face Blackpool at Elland Road on Wednesday.
Warnock has come under increasing pressure from supporters to quit in recent weeks amid a poor run of results that has severely dented the club's promotion hopes.
Chants of 'Warnock - time to go' rang out from the away end during Sunday's 4-0 FA Cup exit at the hands of Manchester City.
But while Warnock understands why he is the focus of fans' anger, he remains defiant that he was always set to leave at the end of the season if he failed to achieve promotion to the top flight.
"I don't think any manager can say they enjoy it (the chants) but I understand where it's coming from, there isn't anybody else around so I'm going to get the brunt of it," Warnock told the club's official website.
"I have spoken with the owners about the future and I've always said all along that I want to get promotion and nothing has changed. If I don't get promotion I won't be here next season, so I can't be fairer than that.
"It's not like I've signed a 10-year contract. I didn't want a long contract, I just wanted one year to have a go at it and while we've got an opportunity we've got to give it a go.
"That's why I'm asking the fans to get behind the lads, because they are a genuine bunch.
"It's a lot different to when I came through the door 12 months ago. I can't fault the attitude of any of the players. We are lacking a bit of quality in certain areas but I think they have done well overall during my 12 months.
"We haven't had the consistency that we have needed but we have had opportunities to be up there, so it's our own doing and we've just got to get on with it now. Blackpool with a new manager will be difficult."
However, Warnock knows there is no time for Leeds to feel sorry for themselves with 15 games to go and an eight-point gap to make up on the final npower Championship play-off berth.
"We've got to win games, simple as that," he said. "If we don't win games you've got to accept what's coming.
"It's an intimidating place to come when they get behind you at Elland Road, we've got to use that."
Blackpool boss Paul Ince has set an interim target of 50 points after stepping into his new role at Bloomfield Road yesterday.
The Seasiders, who are currently 14th with 40 points, lost their last league game 1-0 at Ipswich and have only won two of their last 10 Championship fixtures
"It's very hard to get out of this league,'' Ince told the Blackpool Gazette.
"At the moment we need to get to those 50 points.
"We need the support of the fans, like they've given the club all season.
"Once we get to the first target of 50 points, then we'll see what we can achieve."