Anderson defends Arsenal boss Wenger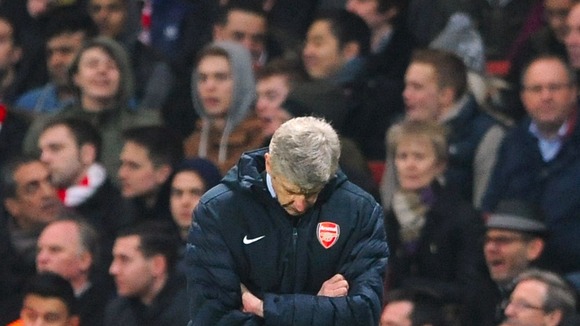 Former Arsenal defender Viv Anderson believes Arsene Wenger is keen to build another Gunners side capable of winning trophies before he calls time on his reign.
The Arsenal boss has come under pressure in the past week after his side lost 1-0 at home to Blackburn in the FA Cup on Saturday and succumbed to a 3-1 defeat in the first leg of their Champions League knockout tie against Bayern Munich.
Those results, coupled with an indifferent league campaign, means they are likely to end the season trophyless for the eighth successive year.
The future of Wenger, and what transfer funds may be made available to him in the summer, are likely to have been on the agenda at an Arsenal board meeting today.
But former England international Anderson told Press Association Sport he does not feel Wenger will walk away from the club until he feels he has finished his work.
When asked if he could see Wenger resigning, Anderson said: "I'd be very surprised.
"He started off with this mission to achieve things with Arsenal and did really well in his early days. He had to build a stadium, so his hands were tied money-wise and he has had to sell his best players.
"I think he wants to do what Sir Alex (Ferguson, Manchester United manager) has done and forge another double-winning Arsenal team, and I think he is quite capable of doing that - as long as he is given the finances to do it."
Anderson, who also played for United, feels Wenger would only leave to take the job of coaching France and has backed him to invest any summer transfer war-chest wisely.
He said: "I think he sees Sir Alex doing what he has done, forming at least three teams in his tenure, and thinks 'yeah' - unless the call came for him to become his country's coach, which is always talked about.
"Whether he wants to take that or not I don't know, but for him to go into league management with someone else, in another country? I don't know about that.
"I think he would stick with what he knows and try to forge a new Arsenal team - and he is halfway there already. He has some really good young players. All he needs to do is buy wisely - and be given the finance to buy wisely."
Today's board meeting was a routine gathering that had been pencilled in for some time and was not called in the immediate aftermath of the Blackburn and Bayern double-header.
But the Arsenal Supporters' Trust (AST) remain hopeful that the board have reassessed their own role in the team's success and create a more challenging environment.
"At the meeting today the board must review its approach to much more than just the position of Arsene Wenger," an AST spokesperson told Press Association Sport.
"The board needs to consider recruiting new members with exposure to the football world who can support and challenge Wenger to be a better manager.
"It's wrong to focus on just him at the moment. Every single non-executive director of the club is over 70 years old and it is time for some fresh blood.
"We would call for (owner) Stan Kroenke to meet with (second-largest shareholder) Alisher Usmanov to work out how to make it stronger."
Back on the pitch, Wenger's side will be looking to maintain a push for a top-four finish when they take on struggling Aston Villa on Saturday.
Captain Thomas Vermaelen has urged his team to play at a higher pace than they did in the defeat to Blackburn.
"Playing at a higher pace makes it difficult for teams to defend, even if they have come to sit deep," he said.
"Most of the Blackburn players were behind the ball, but that just means you need to keep the tempo up.
"The spaces are small, but you have to create gaps by playing with speed. We will learn from what happened, because it is a game we should have won."
:: Anderson was speaking at Manchester's Powerleague Centre, where sports charity StreetGames and The Football Pools were launching their new programme, the 'StreetGames Football Pools Fives'. The programme will provide opportunities for young men and women from disadvantaged areas of the UK, aged 16 and over, to play five-a-side football, experience coaching and try a range of other sports and activities.