Tottenham a one-man team? What about Barcelona and Real Madrid?
by Matt Ogborn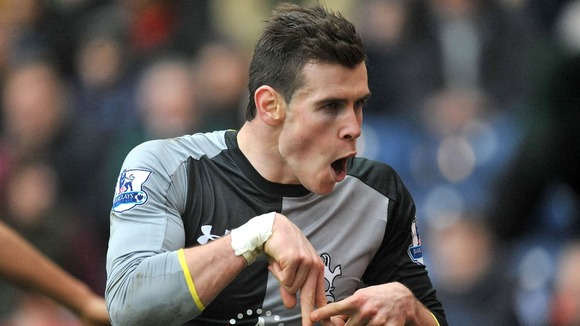 Ever since Gareth Bale's free-kick heroics for Tottenham last Thursday to nick a 2-1 first-leg advantage over Lyon, the internet has been rife with "Spurs are a one-man team" Tweets and articles from all and sundry.
With Andre Villas-Boas' enterprising outfit travelling to Lyon in the first live game on ITV4 and Luis Suarez's Liverpool aiming to overturn a 2-0 first-leg Zenit St Petersburg deficit on ITV later on, it is as good a time as any to explore the one-man team notion some more.
Has Bale been that great and his team-mates that bad, that people have justification to label Spurs' impressive Europa League and Premier League form a solo endeavour?
Let's look at the facts, which in this statistic-obsessed age appear to have more merit than ever before. Bale has scored 17 goals this season, including 13 in the top flight and those two dead ball pearlers in Europe.
In terms of Tottenham's overall goalscoring output so far this season, the Welsh wingman has contributed approximately 30% with Jermain Defoe and Clint Dempsey helping to pick up the slack.
However, unlike Robin van Persie, Juan Mata, Theo Walcott and Suarez, the roving left-footer has not weighed in with a significant amount of assists to help the cause like seasons past.
For this reason, you can argue the case very strongly that Spurs are very far from being a one-man team with Manchester United, Chelsea, Arsenal and Liverpool profiting more overall from their in-form attacking stars than one Gareth Bale.
The irony of Gunners supporters voicing the Bale one-man team view to the world, after witnessing Van Persie earning them Champions League football last season with 39% of their overall goals and 13 total assists, seems lost on them.
Much of the fervour surrounding this Bale theory comes on the back of a goalscoring spurt that has seen him score the last six goals Tottenham have scored in all competitions.
He has shouldered the net busting burden in the wake of Emmanuel Adebayor's Africa Cup of Nations absence and ensuing dip in form, along with the niggling injuries to arch-poacher Defoe.
Dempsey, Aaron Lennon, Moussa Dembele and exciting new signing Lewis Holtby have all shown they can chip in too through assists or goals to help dispel this theory and put Tottenham through to the next round at the Stade Gerland.
What of Suarez then, who Brendan Rodgers will be hoping turns his glaring first-leg misses into the goals that can propel Liverpool past a dangerous Zenit side on home turf at Anfield?
Hungry new signing Daniel Sturridge and a rejuvenated Steven Gerrard suggest that the onus on the Uruguayan will lessen as the season nears its climax in Europe and the Premier League.
United, Chelsea and Arsenal can point to the likes of Javier Hernandez, Wayne Rooney, Frank Lampard, Eden Hazard, Santi Cazorla and Olivier Giroud to quash any claims that they are being carried.
You want bona fide one-man teams? Check out Barcelona and Real Madrid. Lionel Messi has already scored 48 goals and provided 14 assists, while Cristiano Ronaldo 37 and 6. You do not see many people claiming they carry the likes of Xavi, Iniesta, Ozil and Ramos now, do you?