Phil Parkinson: Bradford will use League Cup bounty wisely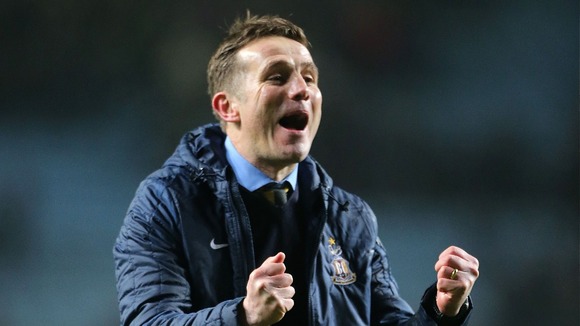 Bradford boss Phil Parkinson is determined the funds used from the Bantams stunning run to the Capital One Cup final must be used wisely.
For a club who have teetered on the brink of extinction on more than one occasion since the big-spending days of 2000, when the likes of Stan Collymore and Benito Carbone arrived on fat contracts that could not be afforded, well over £1million has been banked thanks to a staggering run to Wembley.
Victory against Swansea tomorrow would complete possibly the greatest story in English football history.
Even defeat can be accepted given Wigan, Arsenal and Aston Villa have been accounted for already.
What Parkinson would not accept, however, is the cash generated being frittered away.
"The chairman has done a great job clearing the debts but now it is their job - and mine - to ensure this extra revenue is used to keep improving the structure of the club and make sure our supporters have a club that will flourish in years to come," he said.
"As much as we want to enjoy this weekend, it is really important this revenue is used wisely. I am sure it will be."
Yet Parkinson is not being phlegmatic about his side's situation.
He might have been given the aim of promotion to League One at the start of the season, but having reached this point there is no doubt what he would prefer.
"All along, the league has been our priority. I cannot hide away from that," he said.
"But we are in the final at Wembley and have a chance of getting into Europe.
"So, I can honestly say now, if we had the choice of two things, it would have to be winning the cup.
"We are a League Two team. We have created history by getting this far. It would be truly amazing if we could pull it off."
Parkinson has spent some time this week on the phone to old friend and current Newcastle manager Alan Pardew to try and get some idea of what plans to make, while his assistant Steve Parkin did the same thing with West Ham boss Sam Allardyce.
But one of his key tasks comes from personal experience.
In 1995 he was suffering from a knee injury when Reading reached the play-off final against Bolton at Wembley, condemning him to miss the Royals' Wembley defeat.
So Luke Oliver, whose campaign was ended by a snapped Achilles in October, will very much be part of the event.
"We have to make sure he is a part of it," said Parkinson. "For Luke that is the next best thing.
"My own experience means everybody, whether it is someone who comes in one day a week to help the physio out, or is there every day, has to be involved."