Angel Rangel ranked Michael Laudrup's autograph as a prized possession now he could lift the cup with him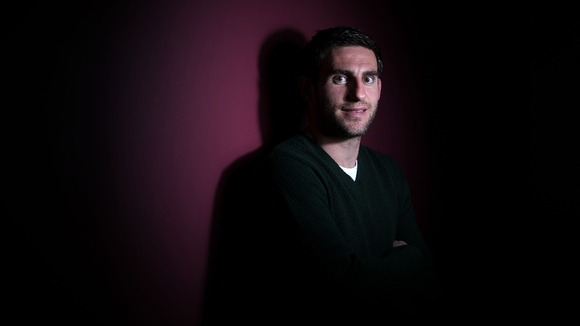 A nine-year-old Angel Rangel ranked Michael Laudrup's autograph as one of his most prized possessions. Come Sunday night, the Dane may have helped to provide the Swansea full-back with another item to treasure.
The Swans face npower League Two side Bradford in the Capital One Cup final as the south Wales club look to secure their first major honour in their centenary season.
For Rangel, it has been a long journey from playing part time in the Spanish lower leagues, while also working as an accountant, to becoming a regular in the Barclays Premier League, but he remembers when his love affair with the game started.
He said: "I remember I was nine and I went with my dad to watch Barcelona play against Sevilla at the Nou Camp.
"I have always been a Barca supporter but that was the 'Dream Team' with Johan Cruyff as coach and it is always the team I remember best.
"Laudrup was my idol so I had his pictures, posters and stickers.
"I also got his autograph. I waited for him to come out and I got it. It was one of my prized possessions and I have got it put away safe somewhere.
"So you can imagine how excited I was when I heard he was coming here.
"We now have a good chance to win a final and a cup which is an amazing achievement and hopefully we will make the Swansea name known worldwide."
When Rangel joined Swansea in 2007, the club were still in League One, but Roberto Martinez was starting to put in place the philosophy which has served the club so well under a succession of managers.
"It is amazing," he said. "Six years ago I was in the lower divisions in Spain and look at it now - I am in the Premier League and in the top 10 and a cup final. It is incredible.
"It has been a long journey and it hasn't been easy. It shows that if you work hard and do things the right way, in the end everything pays off.
"It's not only me - I think it is true of Swansea in general. It is 10 years and they have gone from the bottom to the top flight. It shows how well the club is being run, on and off the pitch."
While Rangel is now used to the life of a Premier League footballer, he has not forgotten his days battling to make his way in the game, and as a result knows the underdog mentality Bradford will bring to Wembley.
"I have played as the underdog," he said. "When I was playing for Girona in Segunda Division B, I was 20 and we had Villarreal and we beat them at home 2-1 and that was a massive surprise.
"We got Osasuna in the next round and we lost 1-0.
"We did well, but once you reach those stages in Spain it is almost impossible that a lower-league team can go all the way to a semi-final or final.
"In British football, there are so many shocks. It doesn't happen in Spain.
"But I know you want to prove yourself and you know that you have to play 200 per cent and hope that you can get something from the game.
"The motivation is always there and for us, this Sunday, we know that we are not the underdogs any more.
"We cannot underestimate anyone. We have to control our emotions, keep cool and play the game the right way."