Oldham boss Philliskirk expects tough tie against Everton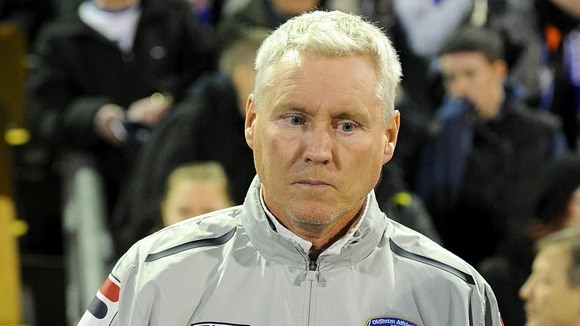 Oldham caretaker manager Tony Philliskirk knows Everton boss David Moyes will leave no stone unturned in trying to derail the npower League One side's remarkable FA Cup run.
Despite a difficult season in the third tier, the Latics have produced inspired form in the cup - dumping out Nottingham Forest and Liverpool before Matt Smith's equaliser deep into stoppage time secured a 2-2 draw against the Toffees and a return at Goodison Park tomorrow night to determine Wigan's quarter-final hosts.
It was not for the lack of trying that Moyes' men failed to put away their opponents at the first time of asking and Philliskirk was made fully aware of the Scot's meticulous approach before they locked horns at Boundary Park.
"I spoke to David for 15 minutes before the game and he'd personally come to our game against MK Dons," he said. "He'd watched the DVDs of every round we'd played in previously so I think he'd done his homework.
"And he got what he thought he was going to get, which was a very tough game. David gave us the utmost respect and I'm sure he will in the replay.
"I wouldn't expect anything different. David's the ultimate professional, his staff are ultimate professionals. I'm sure he does that for all his Premier League fixtures so he's treating us in exactly the same way.
"Obviously it's a massive game for Everton, a great opportunity for them. They'll be thinking about going on and getting a Wembley appearance if they get past us and they get past Wigan."
Philliskirk, assisted by former Everton goalkeeper Paul Gerrard, has revitalised Oldham's fortunes since Paul Dickov's resignation at the start of this month.
Everton have the distinction of being the only team not to lose to Philliskirk's Latics, with three consecutive league wins pulling them out of and four points beyond the relegation zone.
The 48-year-old youth team chief, who insists he has no desire to take the vacant post on a permanent basis, has himself forgone hours in the video room while rebuilding the confidence of a squad shattered by nine winless League One games at the end of Dickov's reign.
"Whatever games we've had, we've had no DVDs, no match reports or anything on the opposition," he explained. "We've majored mainly on what we can do and I think that's had a positive impact in the dressing room.
"We've tried to reiterate to the players that if we do what we're good at we'll give anybody a game, certainly in League One.
"And they showed by beating Forest and Liverpool that on their day they're a match for anybody. Hopefully they can perform to their true potential tomorrow night. That will be great for Oldham Athletic."
Philliskirk, who had his squad practising penalties on Monday morning, is wary of tackling a wounded animal on the back of Everton's weekend defeat to Norwich and knows overcoming the odds on the road is an even steeper task than making both Merseyside giants squirm at Boundary Park.
"It'll be a really tough game for us, in some respects their defeat at Norwich is probably not a good thing for us," he added.
"I saw David's interview after the game and he's obviously smarting after the defeat. Their players were saying they were very disappointed and I've no doubt they'll see tomorrow as a fantastic opportunity to be able to get through to the quarter-final.
"I played there many years ago and it can be an intimidating place to play, Goodison Park.
"We're under no illusions how big a task it's going to be for us but we do go there with a little bit of freedom in the respect that there's nothing expected of us.
"Within the group of players, from what I've been seeing, there's a lot of belief at the moment so we'll not go there and roll over, that's for sure."