Bundesliga round-up: Bayern look unstoppable
by Ben Loder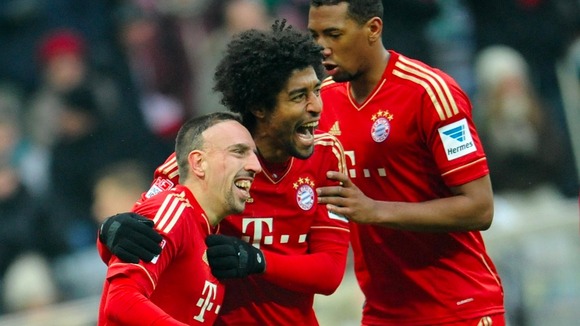 The question currently on everyone's lips in Germany is 'Can anyone stop Bayern Munich?', with the answer at the moment being a firm 'No'.
Champions-elect Bayern swept aside the opposition once again this weekend with a 6-1 home win over Werder Bremen, with honorary club president Franz Beckenbauer seeing only one possible stumbling block for Jupp Heynckes' side's title challenge.
Bayern legend Beckenbauer told Bild: "The only way Bayern could lose the title now is if a meteorite hits the club's home on Säbener Strasse." With that in mind, recent acts of God in Russia may have given the Bavarians' competitors some hope, but considering Bayern's stellar away form, it probably still wouldn't be enough.
The destination of the Bundesliga shield looks all the more certain after both Munich's nearest rivals dropped points on Sunday. Dortmund's 1-1 draw in Mönchengladbach was mostly notable for a stoppage-time candidate for miss of the season from captain Sebastian Kehl, who blasted over the gaping home goal from inside the six-yard box. The 33-year-old was in no mood for excuses post-match, admitting: "I have to take responsibility – I should've decided the match. It's bitter."
Dortmund travel to the all-conquering Bayern, who are also the bookies' favourites for the Champions League after the midweek results at the Emirates and San Siro, for a German Cup quarter-final on Wednesday, where they'll look to restore some pride and dent their rivals' chances of a treble – hope comes from the fact that they are unbeaten in their last six matches against the Rekordmeister.
Third-placed Bayer Leverkusen were also held to a draw, by bottom side Greuther Fürth, who had sacked their coach Mike Büskens last Wednesday having won just one match since August. "It was our last resort in order to give us something to believe in … we all underestimated the Bundesliga," said club president Helmut Hack. Not least Hack himself, who spoke of having "34 holidays" in the top division before the season got underway. He will have been encouraged by the start made under caretaker boss Ludwig Preis, though the team have still only scored twice since Christmas.
It was a far more worrying weekend for TSG Hoffenheim, however. The combination of Fürth's draw and their own 2-1 defeat to their nearest rivals in the table, Augsburg, has seen them drop into an automatic relegation spot for the first time since September, leaving them only three points ahead of Fürth at the bottom.
Having spent €25 million since the summer, billionaire investor Dietmar Hopp had anticipated qualification for Europe, and captain Andreas Beck admitted the players are also struggling to come to terms with the crisis: "It's a messed-up situation. It's difficult for all of us because we didn't expect a relegation dogfight. We've got a mental block." It's clear that the Sinsheim club are in desperate need of a confidence-boosting three points. Their next opponents? Bayern Munich.