Roberto Martinez insists Wigan's FA Cup run can help their relegation fight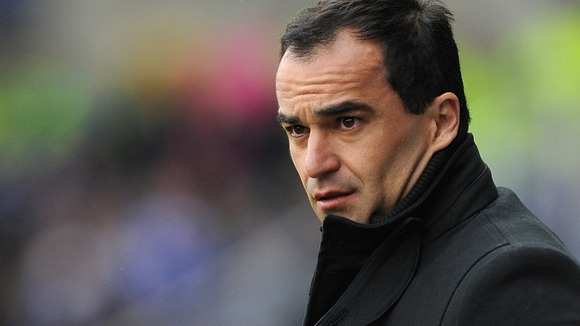 Wigan boss Roberto Martinez believes his side's involvement in the FA Cup can help them in what he feels is their toughest fight against relegation yet.
Martinez is now involved in his fourth successive battle to beat the drop since taking charge at the DW Stadium at 2009.
The Latics under Martinez went closest to losing their Barclays Premier League status two years when they beat Stoke in dramatic circumstances on the final day to survive. Last season they produced a remarkable late burst of form to stay in the top flight.
Now they are just outside the bottom three once again but confidence has been bolstered by a run to the FA Cup quarter-finals.
Other managers might view their upcoming tie against Everton as a distraction but Martinez thinks it is of huge benefit.
The Spaniard said: "It will help now. We have been making nine, eight, six changes in the FA Cup but there are two big lessons to get out of it.
"First the youngsters at the club are getting a good education so when they play in the first team they are ready and, second, the FA Cup success has helped us in the confidence and belief we bring into the league.
"So far in the fight both competitions have gone hand in hand
"We need to make sure we don't let the FA Cup get in the way of our play in the Premier League, but this is only the second time we have faced a quarter-final in the FA Cup in our history.
"It is a special moment and the fans are all excited, we are excited.
"I do feel we have got a pool of around 24 players to play in both competitions, so I see it is a real benefit.
"We have to take advantage of it, rather than feel we are running out of ideas or energy because as, a football club, we don't get too many seasons when we are involved in two competitions at the start of March."
Wigan, 17th, are only outside the relegation zone on goal difference - thanks to a 3-0 win over relegation rivals Reading last week - and are three points behind the side immediately above them, Southampton.
They are five points adrift of 15th-placed Sunderland and six behind Norwich and Newcastle but Martinez thinks the battle is much tighter than it looks.
He said: "We need as many points as we can get.
"We have been in this situation time after time but I do feel the fight we are involved in this season is going to be the hardest out of the last four years. I do feel it is a very open fight.
"Looking at the table now, I do feel there are more teams involved and, with the manner the league is developing, there are certain teams starting to drop their levels.
"Until the last day of the season many teams could get involved in that fight.
"I do think the level of the bottom 10 teams is very close, I don't think there are many differences.
"I think it is more open than the table shows at this time.
"There are 33 points to play for - a huge amount of points.
"Many things will happen between now and the end of the season."
Martinez accepts his team must improve their home record having won just twice at the DW Stadium in the Premier League all season, half as many times as away.
Martinez, whose side host Liverpool on Saturday, said: "It has been harder for us to maintain, throughout the games, the positive results.
"Most of the time we are in positions where we are in control and we look like that we can win the game, then all of a sudden we have a really poor spell of 10-15 minutes when we get really damaged and concede too many goals.
"It is something we can work on and we need to focus on the final six games at home.
"That is probably our special subject this season.
"It doesn't matter who we play against. We need to find a way to be more effective in our football and in our style.
"We need to make sure we get more points than in the previous games at home."