Viv Anderson: Sir Alex Ferguson won't retire this summer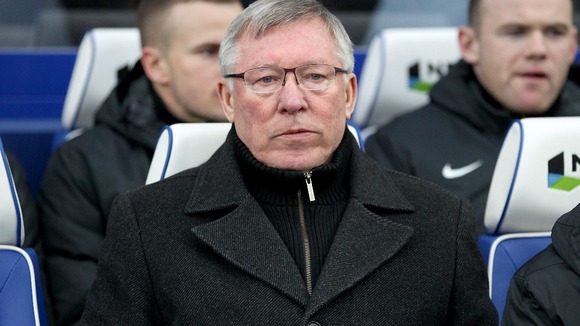 Viv Anderson has rejected any notion Sir Alex Ferguson might be tempted to call time on his extraordinary stint as Manchester United manager this summer, even if they win the Premier League and Champions League.
With United chief executive David Gill last week announcing that he will step away from the role he has held for almost 10 years at the end of the season, questions have been raised as to whether Ferguson will have the desire to go on.
Many 71-year-old's might conclude it was the right time to go too, and do something less stressful.
However, as has been proved so many times in the past, Ferguson is not a normal 'pensioner'.
And former United and England defender Anderson, who played under Ferguson from 1987-91, believes the fire and passion that has sustained him throughout his managerial career still burns brightly.
"There is no chance in a million years that Sir Alex will retire this summer," said Anderson.
"He loves the football club. He lives and breathes it.
"Only recently he said that he is good for another couple of years.
"He won't retire even if he wins those two trophies."
Ferguson spent part of this week in Barcelona, casting an eye over Real Madrid, who United face at Old Trafford next Tuesday in a mouthwatering Champions League last-16 second leg clash.
The fixture certainly overshadows Saturday's Premier League encounter with Norwich, even though United have a chance to re-open a 15-point lead on Manchester City, who are not in action until Monday evening.
In addition there is the prospect of Ryan Giggs making his 1,000th appearance in senior football.
However, the Welshman's presence may depend on how Ferguson intends to compensate for the likely absence of Phil Jones, who did such an effective job in a midfield holding role during the first leg in Madrid but whom subsequently injured his ankle in the FA Cup fifth-round win over Reading.
"Phil did very well against Marouane Fellaini recently as well, so it will be interesting to see if he overcomes his knock," said Anderson.
"But in the end, it will be about how Manchester United play on the night.
"They have vast experience and people like Rio Ferdinand and Nemanja Vidic will be telling the younger players what is expected of them."
Tuesday's trip to the Nou Camp, which saw Madrid beat arch rivals Barca 3-1 to reach the Copa del Rey final, will not have told Ferguson anything new.
Cristiano Ronaldo's two goals will not make him any more of a danger man than he clearly would have been anyway on his first return to Old Trafford since that world record £80million exit in 2009.
Gonzalo Higuain may edge Karim Benzema out of Jose Mourinho's starting line-up, but the general policy will be the same; trying to exert pressure on Madrid's defence without United leaving themselves open to Real's lethal counter-attacking abilities, something beyond Barcelona's scope this week.
"It is a great feat to go over there and come back with something," said Anderson.
"But it is certainly not done and dusted yet.
"Real are a good side who can hurt you, so United will have to defend properly.
"I think the goal they (United) have got could be vital because with all their experience and home advantage, they won't be making too many mistakes and that might be the crucial part."
Viv Anderson was speaking at Manchester's Powerleague Centre, where sports charity StreetGames and The Football Pools were launching their new programme, the 'StreetGames Football Pools Fives', which will provide opportunities for young men and women from disadvantaged areas of the UK, aged 16 and over, to play 5-a-side football, experience coaching and try a range of other sports and activities.