Laudrup hands de Guzman penalty duty after spat with Dyer in League Cup final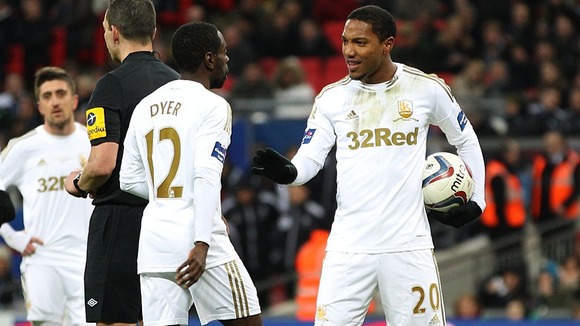 Manager Michael Laudrup has moved to make sure there will be no penalty ructions when Swansea face Newcastle on Saturday.
The only low point in last weekend's emphatic 5-0 Capital One Cup final victory over Bradford was the unseemly row between Nathan Dyer and Jonathan de Guzman over who would take Swansea's spot-kick, after Matt Duke had been sent off for bringing down the Dutch international.
Dyer had already scored twice and had designs on becoming the first player to score a hat-trick in a League Cup final, while De Guzman felt he was entitled to take the penalty having been the man who was brought down.
Laudrup eventually had to give striker Michu instructions to settle the dispute, with De Guzman taking the responsibility and slotting the fourth of Swansea's quintet of goals.
But there will be no repeat against the Magpies on Saturday after Laudrup confirmed De Guzman is now Swansea's designated penalty taker.
He said: "It was was very unusual as we had not had a penalty before, but maybe we will now have a penalty on Saturday.
"As for who will take it - you never change a winner so if Jonathan de Guzman is on the pitch he will have it."
Swansea return to league business with Laudrup adamant their strong campaign must not finish with a damp squib.
The Swans have compiled 37 points from 27 games, just three short of Laudrup's initial target of 40 points.
But the Dane does not want a repeat of last season, where the Welsh side tailed off badly after getting to 39 points, winning just two of their final nine games.
He said: "If you look at some of the sides we have to play, they all have something to play for.
"Newcastle are not 100 per cent safe, neither are Norwich. West Brom are still playing for a place in Europe while Arsenal and Tottenham are going for the Champions League.
"We cannot stop being competitive because if we do we will lose all the games.
"It is part of being more mature; I am not saying we have to win six or seven of these games but we must keep being competitive.
"Look at last year when the team reached 39 points after some very good weeks, then suddenly lost five of the last nine, so we cannot stop competing, we have to go on."