Mancini calls for high intensity as Man City look to stay in title race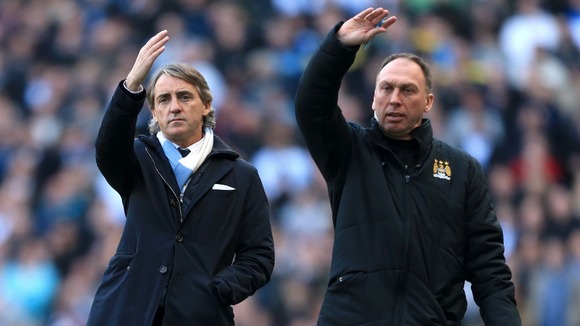 Manchester City boss Roberto Mancini has told his team not to let the intensity slip as they await an opportunity to get back into the title race.
City kept their faint hopes of retaining their Barclays Premier League crown alive with an impressive victory over third-placed Chelsea last weekend.
But they remain 12 points behind leaders Manchester United and that deficit could have grown to 15 by the time they kick off at struggling Aston Villa on Monday night.
Mancini said: "I think it will be a difficult game. They play (to escape) relegation and will be strong.
"For us, it will be important. If we don't beat Aston Villa, it is like we didn't do anything against Chelsea.
"For this reason it is important to beat Aston Villa and afterwards continue to go. The season is not finished. It is impossible we can think it is finished now.
"There are 11 games to the finish. It is our job to play all the games 100 per cent and try to win always."
With no room for error, Mancini accepts the pressure will be on his side every game.
But after his side memorably overturned an eight-point gap in the final six games last season, he knows long odds can be beaten.
The Italian said: "Every game will be like this.
"When you are 12 points behind it is normal that if you lose or you don't win and Manchester United win the next game it will be difficult.
"We should try to win always. It doesn't change our way.
"I was not strong in mathematics in school, but with 11 games to play - 33 points - everything is possible.
"Last time we won the title from six games to go, eight points. I think everything is possible."
City's hopes suffered a serious blow when they were beaten by relegation battlers Southampton three weeks ago.
They responded with an emphatic win over Leeds in the FA Cup fifth round and their 2-0 defeat of Chelsea, which has eased fears of being dragged into a battle for second, has restored confidence.
Mancini said: "I am very pleased. We played a really good game and it was important for us to beat Chelsea. I don't know if it was the best performance, we played other good games, but we played really well."
Despite that City's most realistic hope of silverware this season appears to be the FA Cup - they face Barnsley in the quarter-finals next week - and that has sparked speculation over the future of several players at the Etihad Stadium.
It has been suggested a number of faces could be cleared out in a wholesale squad revamp but Mancini insists that has not been discussed.
He said: "It is all speculation because in this moment we haven't decided anything.
"Like in every team there will be some players that leave the club, some player will arrive, but we don't know how many players and which players."
City captain Vincent Kompany seems unlikely to return to action at Villa Park.
The Belgium defender has missed five games since suffering a calf injury in the FA Cup fourth-round win at Stoke just over a month ago.
It had been hoped the 26-year-old could return against Chelsea but the problem has lasted longer than expected and Kompany has also had trouble in his opposite calf.
Mancini has not yet ruled him out for Monday but the Barnsley clash is now looking a more realistic comeback target.
Mancini said: "Vinny is getting better in this moment.
"We hope we can recover him for the next game. We will try for Aston Villa for Monday but it is difficult because he did not train with the team, he trained with the physio.
"We hope for the FA Cup. The calf is a difficult injury because you think you are okay and then you have a problem. The calf is a strange injury."
Former Villa midfielder Gareth Barry should be fit to face his old team after two games out with an ankle injury.
Mancini said: "He has trained with the team the last two days and I think he will be ready."