Chelsea Benitez comforted by support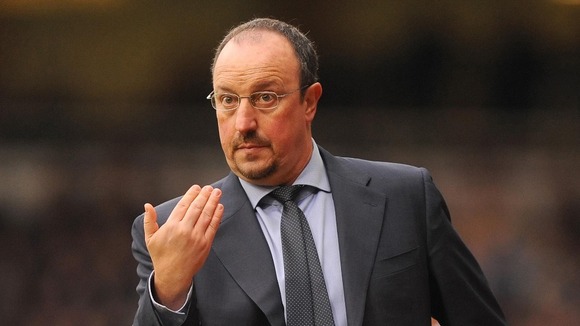 Chelsea interim manager Rafael Benitez is adamant he has the support of the playing staff - including captain John Terry - after his midweek rant against the club's fans.
Benitez can expect an even more hostile reception than usual at Stamford Bridge for tomorrow's Barclays Premier League clash with West Brom following his criticism of the fans after the FA Cup win at Middlesbrough.
The Spaniard backtracked today - he said the title 'interim' was not a concern and insisted the comments were designed to ensure the best for his team and a unified backing.
He also insisted he has the players' support, despite reports of dressing room unrest.
"A lot of the players have been supporting me, have been telling me to carry on doing my job," said Benitez, who declined to reveal the content of "private conversations".
"When the atmosphere is good, the players perform a little bit better.
"I realise that we have to do everything together and it will be easier.
"I don't have any problem; it's the opposite. I have a very good relationship with everyone."
Having unhappy players is part of football, Benitez argues, as all players want to play.
Terry, who has been in and out of the side since returning from a lengthy absence with a knee injury sustained in November, missed training yesterday following the trip to Teesside as a precaution.
"He was 16 weeks without training and he has missed some training sessions with a problem with his knee," Benitez said.
"If he can complete a normal training session with the rest of the team then he'll have more chances to play."
Since the initial rehabilitation plan for Terry was revised, the 32-year-old defender has been progressing more swiftly, but it is Benitez who will decide if the captain plays more than once a week.
"Before it was quite difficult," Benitez said.
"It was taking too long. We had to prepare a proper plan and be sure we had all the steps in place.
"He was really pleased with the plan and we started with that. He was progressing.
"Thanks to this plan, and the job of the fitness coaches and the medical staff, he can carry on now training normally and he can play games.
"He's an important player for us. He is the captain, he has quality, no doubt about that. I will decide whether he can play two games a week with the intensity."
In an uncertain period for Chelsea, Benitez is attempting to fulfil his brief of Champions League football next term before departing at the end of the season.
"It's a transitional period with players with quality, a lot of talent, but they need more experience in the Premier League," he said.
"If we can stick together in the next 11 games, it will be positive for sure.
"I am trying to do the best for my team and my club. Don't have any doubt about that.
"Until the last minute I will try to win every game.
"We have 11 games and we have to do our best in every one."