Anzhi boss Hiddink eyes Newcastle scalp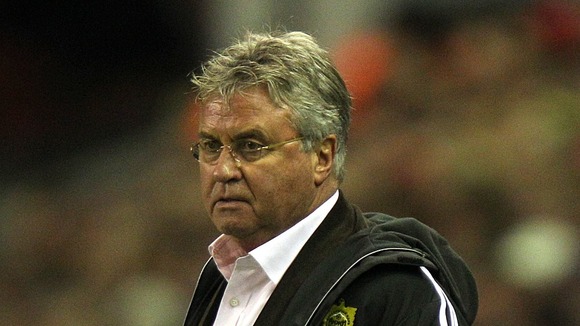 Anzhi Makhachkala boss Guus Hiddink has challenged his players to fulfil their European dreams having already reached their first target.
The Dutchman will send his side into Europa League battle with Newcastle at Moscow's Luzhniki Stadium tomorrow night having guided them into the last 16, his objective when they embarked upon the campaign in the second qualifying round in July last year.
However, having come this far, he is determined to extend their run further.
Hiddink said: "We are going to have another very interesting and very tough contest against a team who reinforced themselves in the past weeks dramatically in a positive way.
"Regarding ourselves, we are very happy, of course, that we have reached our aim that we set at the beginning of the season, to survive the winter-time in Europe.
"Then we got a good result against Hannover in the two games and then you are in the last 16 in Europe, which is a very good success.
"But having got there, we are so eager to see what we can do to make the next step, and it's also good to see how our team is in comparison with teams who have the experience already of playing for many years in a tough league, plus sometimes Europe."
Hiddink last locked horns with the Magpies as Chelsea manager in April 2009, in what was the first game of Alan Shearer's brief and ill-fated reign as manager at St James' Park.
The Blues won 2-0 on Tyneside that day on their way to a third-place finish and Champions League qualification, while just a few weeks later Newcastle suffered the humiliation of relegation.
However, the Anzhi manager is well aware of the recovery job started by Chris Hughton and continued by Alan Pardew, and he expects a difficult tie following the injection of new blood at Newcastle in January.
Hiddink said: "It's a strong team. We have seen them in their contests in Europe, but also we have seen them in the games they have recently played in the Premier League.
"When you see the last game against Swansea, they were dominating, dominating, dominating and they got a very unlucky goal in the last part of the game against them.
"But you could see it's a modern team, so it's a big challenge for our players on the one hand. On the other hand, we would like to start playing because the league is starting in a few days.
"The team has practised a lot in the training camps, but one day you must start playing again more frequently."
Anzhi, who are coming towards the end of the Russian League's mid-season break, ousted Bundesliga club Hannover in the last round, winning 3-1 at home and drawing 1-1 in Germany, but striker Fedor Smolov is expecting an even tougher test this time.
He said: "In my opinion, Newcastle are a stronger team, first of all because they play in the English Premier League, which looks to be a stronger competition than the Bundesliga.
"Also, they have recently had a good improvement in their results and they have made a good upturn in the table, and also they have high-quality national team players in their line-up.
"But we will be looking to play our own game. We also have some high-quality players in our team."
Meanwhile, Hiddink was refusing to be drawn into the debate over the current situation at Chelsea, with interim boss Rafael Benitez having confirmed his spell in charge will end in the summer.
The former South Korea manager, who could well find himself linked with the job at Stamford Bridge once again, said: "I don't want to talk too much about that."