Barnsley boss David Flitcroft: I've faced bigger challenges than Man City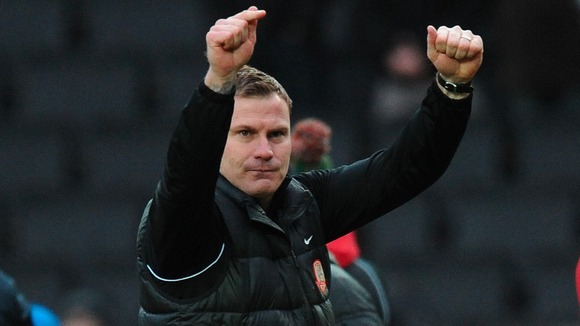 Barnsley boss David Flitcroft claims his head-to-head with Roberto Mancini in the FA Cup this weekend does not represent the biggest challenge of his fledgling managerial career.
Flitcroft takes his npower Championship relegation battlers to the Etihad Stadium on Saturday to face Barclays Premier League champions Manchester City in the last eight, with a Wembley semi-final place the incentive for an unlikely giant-killing.
But the 39-year-old, who will lead the Tykes for the 14th time since mentor and predecessor Keith Hill was sacked at the end of December, insists he has already passed a sterner test.
Barnsley had already been snubbed by Sean O'Driscoll and Terry Butcher in their bid to find a replacement for Hill when a 2-0 home win over Leeds convinced them to give assistant and then caretaker-manager Flitcroft his chance.
Just two defeats in the 10 games since, including FA Cup wins over Burnley, Hull and MK Dons, suggest the Oakwell board made the right decision.
"I think the Leeds game was the biggest," said Flitcroft, younger brother of former City captain Garry. "Knowing that you're fighting tooth and nail to get a job you really want.
"That was the biggest game for me and it probably always will be because the pressure, the intensity, the thrill of whether you're going to get the job or not was something that will live with me for the rest of my life.
"This is a different game. It's one I'm happy for the players to be involved in and I'm happy for (assistants) Micky Mellon and Martin Scott, who was out of the game eight weeks ago.
"Now they're going to be in the dugout competing against the champions of the country.
"There's a lot of excited fans as well, I think there's 6,000 coming and we could quite easily have got rid of 12,000.
"It's a real day out for the fans, who've had a lean time of it these last few years, so I'm delighted for them and the board.
"The club in general, I think we needed this pick-me-up."
Flitcroft promised the quarter-final clash will not jeopardise the club's relegation fight.
After victory over Leeds had secured Flitcroft his dream job, Barnsley won five and drew one of their next six games to haul themselves out of the relegation zone.
But Tuesday night's 1-1 draw at Burnley, following back-to-back defeats to Bristol City and Bolton, was not enough to prevent them from slipping back into the bottom three.
Team selection for the showdown with Mancini, Flitcroft said, would be made with next Tuesday's home league game with Brighton very much in mind.
"Without a doubt, absolutely. The league campaign is key," he said.
"We've clawed our way back into a position that reflects what we've done over the last 12 games.
"We've not taken our focus off the league campaign while we've been on this FA Cup run.
"Most teams do. Ninety per cent of teams do and always have a dip and a downturn.
"It happened with Bradford. Their league form went completely off, but our league form has been very good - two losses in 11 games.
"We're moving forward well and I won't allow this team, this group to lose focus on that.
"It's absolutely vital that our league form is central to what we're doing."