Aston Villa boss Lambert: Keep calm, and play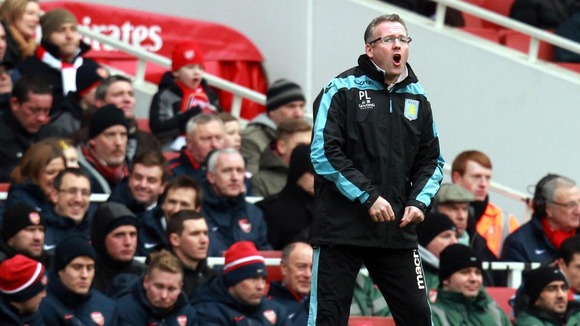 Paul Lambert has challenged his Aston Villa players to show courage and "play the game and not the occasion" in Saturday's Barclays Premier League relegation clash with Reading at the Madejski Stadium.
Villa are in the bottom three and approaching a vital week in their battle to stay in the top flight with a home match to follow against bottom placed QPR next weekend.
But Lambert senses no fear in his squad about the battle to survive and admits he thrives on the pressure.
He said: "You'd like to think everyone has got fight in them to win a game and it's okay to be aggressive.
"But it will take a lot of courage. You need a lot of courage to take the ball as well. You need to go and play football and not get caught up with the occasions.
"In the last few performances, we certainly don't look like a team that is playing under pressure.
"We will try and play the game and not the occasion. If you get caught up in the occasion it can certainly hurt you - but we are not lacking in confidence or any courage to compete with teams.
"I do believe we will be fine if keep playing the way we are."
Lambert added: "If you win these two games, you are right up there but a lot of teams will be saying that. We are certainly playing well enough to win them.
"The situation remains so tight between the middle and the bottom part of the table.
"I feel we've got some momentum to be honest. The confidence is there. I don't need to lift them. I can see it in training and the last few games.
"It doesn't look like a team that is frightened of the situation. That is the pleasing thing."
Lambert is aware of the financial implications of Villa being relegated but is focusing on the tasks ahead during the next two and a half months.
He said: "I think there are more important things to worry about than finances at the minute.
"We will speak about it in due time but the main thing for me is football matches.
"The main focus now is to stay in the league. That is everyone's focus.
"It's not just the finances if you go down. No-one wants to go down, for your own prestige, everything."
Lambert added: "Do I enjoy this situation? Listen, I love the pressure of it. It's my job.
"Sometimes you are up, sometimes you get down, but over the whole course of the thing, you like pressure on you all the time."
Villa have been boosted by the return to training of skipper and central defender Ron Vlaar who has missed the last two games with a calf problem.
Lambert said: "Ron is fine. He has trained the last couple of days and didn't look too bad. I will see how he is after today.
"If he comes through all right, then we will see how everybody is."
Midfielder Fabian Delph will start a two game ban after collecting his 10th yellow card of the campaign in the 1-0 home defeat against Manchester City on Monday.