Southampton boss Pochettino wanted more points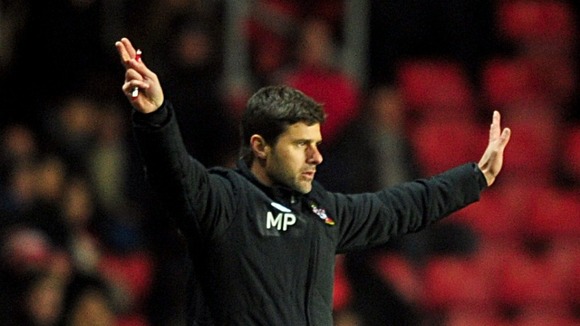 Southampton manager Mauricio Pochettino believes his side could have taken maximum points from his six games in charge.
The Argentinian was appointed Saints boss in controversial circumstances back in January on the same day fans' favourite Nigel Adkins was given the boot.
The St Mary's-based side were three points clear of the drop zone then and, despite receiving many plaudits for their pressing game, have the same cushion six matches on.
The 3-1 defeat of Manchester City remains Southampton's sole victory under Pochettino, although the former defender is confident things will pick up.
"No-one said it was going to be easy - everything takes time," Pochettino said ahead of tomorrow's trip to Norwich.
"If you were expecting some kind of magic wand to find solutions to everything then (you were wrong). I relish pressure, I like being in a pressurised situation.
"I probably arrived here at the beginning of the year because maybe there was something not going well with the club.
"Anyhow, as with everything, you always need time to develop, but I don't have any problem with anyone telling me that they are upset we haven't won these six games.
"After analysing these games, I think we should have won these six games but I just try to analyse matters objectively.
"Speaking in a very objective way, I think the team deserves a lot more than to have just one win from these six games.
"Overall, I don't really feel the pressure, I accept the pressure. I am really happy with the way the club and fans have treated me, knowing full well that it is not easy to get on a train that is already moving."
While previous results may have left Pochettino feeling hard done by, he remains confident Saints are on the up.
So much so, in fact, that he is not even entertaining the prospect of relegation, despite his side sitting precariously in 16th place.
"At the moment I am not thinking about that," Pochettino said. "The only thing I am working on is getting better every day and getting better results."
After back-to-back defeats to Newcastle and QPR, victory at Norwich tomorrow would be a timely boost for Saints.
Adam Lallana and Danny Fox are doubts for the trip to Carrow Road, where January signing Vegard Forren will be hoping to make his first appearance.
"We need to go in search of a positive result after two negative results," Pochettino added.
"If we are able to get the three points, it will put us with those teams that are also fighting but are a little bit higher up the table.
"I haven't set myself a number of points to achieve to stay up. What is my absolute desire is to win the next game."