Stoke boss Pulis: Direct blame at me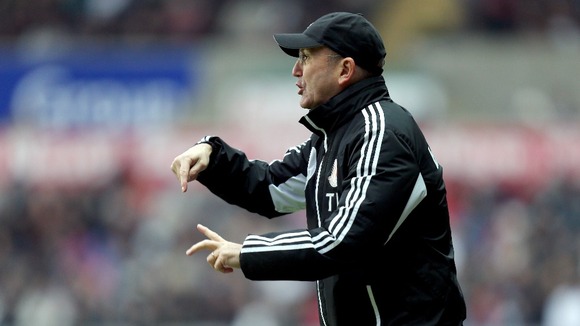 Thick-skinned Tony Pulis will continue to take supporters' criticism on the chin as long as they direct it at him and not his players.
Stoke were booed off the pitch after last weekend's 1-0 defeat by West Ham at the Britannia Stadium, extending their bad run to only one win from the last nine Barclays Premier League games.
Pulis said: "If they're going to criticise, I'd rather they criticised me. I'm on the bench, you can't affect the game that much, and you need the players to be playing with confidence and freedom.
"Those players don't deserve criticism. They've been absolutely fantastic for this football club. If there's a gripe, have it with the manager - leave the players alone.
"If they go out there feeling the supporters are behind them, it's a lot easier than thinking the supporters are just waiting for a moment to criticise. We need to instill that little bit of strength and steel into the players without a question of a doubt.
"When you go on a run of games when you're not winning, you always get a dip in confidence but you have to accept that. You have good times and you have bad times.
"Football is a reflection of life and it ebbs and flows. You have periods where you think you can rule the world and the next day it feels like everything's on top of you."
Stoke's chances of achieving their first top-10 finish in the Premier League in their fifth season have been hurt by their current run, although they remain 11th and behind Fulham only on goal difference.
Pulis has a great relationship with Stoke chairman Peter Coates, whose family own the club, and his position is not under threat, but he is feeling the heat from a section of fans who are unhappy with the style of play.
Pulis said: "If I was a younger manager and I'd spent the first six or seven years at this football club and with what we've achieved, maybe I'd be looking over my shoulder and thinking, 'What's going on?'
"But I've been managing for a long time now and I know things change very quickly. The supporters of this football club will be supporters all their lives and you have to accept criticism.
"If they pay their money, you have to accept they have the right to say what they think, whether you think it's right or wrong.
"We went 10 games without losing and in those 10 games we played worse than we have in some of the games that we've lost now. That's always disappointing but we're in the Premier League and we have to take it.
"The most important thing is we have to make sure we stick together. This is when you need that little bit of support from everybody around. But I've been there before, I know all about it."
Stoke's away form has been particularly poor, with only one victory this season ahead of Sunday's trip to Newcastle, while goals have also been hard to come by.
The Potters' tally of 26 goals in 28 games surpasses only bottom club QPR, and in the last nine games they have found the net just five times.
Addressing supporters' complaints about the lack of entertainment, Pulis admitted there are areas they need to look at in the summer.
He said: "We've got to get through this season and at the end of the season we'll look at it. I do think the supply at times to the forwards hasn't been as good as what you'd expect. That's something we've been looking at and talking about for a while.
"Having said that, everybody at this football club gives their best. We need to do that for the next 10 games and collect as many points as we possibly can."