Bundesliga highlights: Bayern get out of jail, Schalke on top in Ruhr derby
by Ben Loder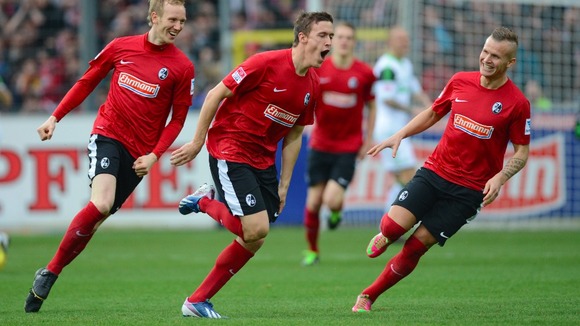 If you only watch ITV's Bundesliga highlights one week, make it this one. If only for events in Freiburg, where the Black Forest club and their visitors Wolfsburg staged their very own goal of the month competition in the space of 90 minutes.
Horror for Bayern as they conceded twice (!) against Düsseldorf. The winning goal was Jerome Boateng's first in 130 matches, and post-match he explained to bundesliga.com why he had gestured towards coach Jupp Heynckes after scoring the decisive goal: "The coach told me he'd take the team out for something to eat if I scored this season. I wanted to remind him."
Two who won't be dining together are Hannover coach Mirko Slomka and the club's Director of Football Jörg Schmadtke. Chairman Martin Kind was forced to intervene after the pair's working relationship deteriorated to the point that they communicated only by email.
Biggest game of the weekend was the Ruhr derby between Schalke and Dortmund. Schalke's season has had more peaks than freshly whipped cream and more troughs than a pig-sty, but they've timed their ups just right: Saturday's 2-1 win saw them do the double over their Ruhr rivals, and a clean sheet against Galatasaray on Wednesday will see them through to the last eight in the Champions League.
Things are hotting up at the bottom: Augsburg are right back in the mucky stuff, losing as they did to a perennially uninspiring Nürnberg side, who gave themselves some breathing space in the process. Hoffenheim meanwhile might be tempted to take legal action after only being awarded three points despite winning their six-pointer against the only team below them, Greuther Fürth.
Tim Wiese watch: the universally disliked Hoffenheim goalkeeper has finally earned some sympathy from the watching world. First he was dropped from the team, then banished to train on his own because of off-field indiscretions. That "incident in the men's toilet" and "conspicuous behaviour" in a nightclub's VIP area led to mockery from the stands, with fans brandishing a banner saying "Hey Tim, come to an away game. We'll pay for the booze." But having finally received some support from the press, Wiese would probably rather be the successful player everyone hated again.