West Ham boss Allardyce relying on Chelsea fans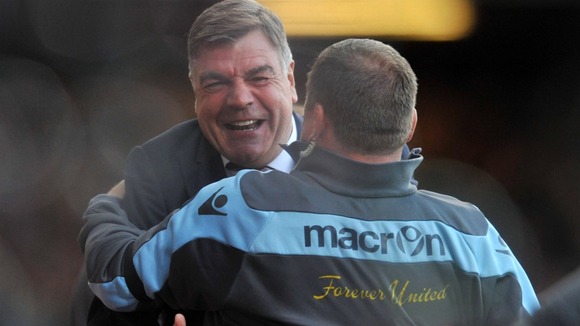 West Ham manager Sam Allardyce is hoping to achieve a Barclays Premier League double over European champions Chelsea tomorrow and believes the Blues' supporters could actually help his side to victory at Stamford Bridge.
The atmosphere at Chelsea home games has been hostile since former Liverpool boss Rafael Benitez replaced Roberto Di Matteo as interim manager until the end of the current season.
The Hammers inflicted a 3-1 defeat on Chelsea just three games into Benitez's tenure when the fans' wrath was still at its strongest.
Now Allardyce takes his team to Stamford Bridge looking for a famous league double over their London rivals and he reckons the animosity towards Benitez can work in his side's favour.
"You can see the importance of your fans being behind you rather than not," he said.
"I think Chelsea's team has suffered at Stamford Bridge because the fans have not been fully supportive of what has happened. That is nothing to do with Rafa, he can't help that.
"He is a manager trying to do a job the best he possibly can and he's obviously got a great CV at the jobs he has done at his other clubs.
"But it shows the importance of a volatile fan base that turned the other way, what effect it can have on a team.
"In the reverse of that we all know the extra man that fans can create. You see the opposite of that at Chelsea and certainly in the early stages when Rafa took over and Chelsea suffered some poor results because of that. That's the effect the fans have on the team that plays on the field."
Allardyce, 58, has seen his side win just three league games since their comeback victory over Chelsea at Upton Park, but the ex-Newcastle manager knows his players are up for causing another shock.
"It would be our first double of the year, we've had many other opportunities that we've blown," he said.
"It would be an absolutely unbelievable result for us to win at Stamford Bridge and do the double over Chelsea in the same season. It's one of those things that happens rarely, for you to be able to beat a top side home and away.
"It's a great incentive for the lads to go out there and achieve that on Sunday."
Chelsea overcame Steaua Bucharest in their Europa League last-16 tie on Thursday evening on the back of a 2-2 draw at Manchester United in the FA Cup last weekend.
In comparison, West Ham have not played since recording a 1-0 win over Stoke on March 2 and Allardyce feels the extra rest could give his players the chance to compete with Chelsea tomorrow.
He said: "On the basis that they played on Thursday night, we certainly should have the energy levels to cope with as best we can the quality that Chelsea have.
"The high intensity levels that we'll need to achieve to nullify a Chelsea side are pretty big, especially out of possession.
"We should have enough to try and stay in the game as long as possible. We obviously want to score first if we can, but if we can't as long as we keep the game tight then inevitably they must tire based on the workload they have had and you can find some gaps and spaces."
Allardyce guided West Ham back to the top flight last season and has kept them clear of the relegation zone with just 10 games remaining.
His contract expires in the summer but he will sit down with co-owners David Sullivan and David Gold when the club are certainly safe, and he has his own idea of when that will be.
"We're in a very good position," he added. "But mathematically we need to get a little closer and we need another five points. I think 38 points will be safe this year, but we'll all aim for 40, just in case."