Hodgson tells Ferguson that Ferdinand's fitness will be well managed with England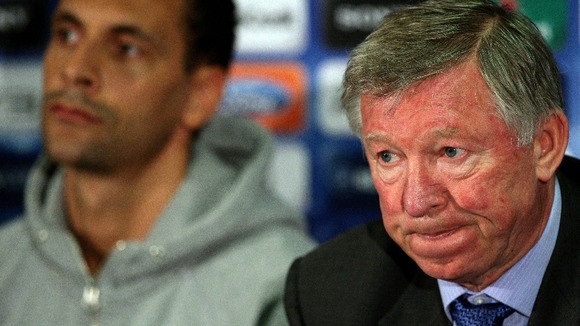 England manager Roy Hodgson has revealed he has had discussions with Sir Alex Ferguson regarding Rio Ferdinand and insists the Manchester United manager need have no concerns over how the recalled defender's fitness is managed while on international duty.
The 34-year-old has been selected in the squad for the World Cup qualifiers against San Marino and Montenegro, the first time Hodgson has picked him since he took charge of England just before Euro 2012.
There were reports on Saturday morning that Ferdinand could yet turn down the chance to represent his country again, either in response to being left out by Hodgson until now or in order to prolong his club career.
Certainly Ferguson feels the latter issue is something that has to be kept in mind, and he spoke on Friday about his concerns over whether the tailored fitness programme Ferdinand is on at United would be adhered to by England.
But Hodgson, who has also tried to contact Ferdinand himself on the telephone, is adamant there has been some consultation with Ferguson over Ferdinand and that the England backroom staff are used to managing different players' requirements.
He said: "I have spoken to Sir Alex (about Ferdinand) but I'm not going to go into detail about conversations I've had with other managers.
"Sir Alex is an important person for me to keep in touch with. But I'm not prepared ever to discuss the content of our conversation. That will remain private between us.
"Whenever players come to join us, we always research what their routines are with their club sides, what they are used to doing two days after a match for example or the day before a game.
"To such extent, we take that into account with our programme and our medical people are in constant contact with the medical people and sports science people at all the clubs.
"It gives us a pretty good idea of what needs to be done. I think it is very important. I regard myself as a custodian of these players.
"We try to do a good job, try and make sure we look after them properly and hopefully send them back in a good condition.
"I've got to be aware when taking players from club teams that you are borrowing other people's property because the players are paid by the clubs, not England.
"One hopes the chance to play for England would be a great motivation for them, but you also understand the managers.
"In the last year, we've not had any problems at all.
"Sir Alex has been very fair but I am aware, when you taking a lot of players from one club, you are placing a burden on that club and that manager."
It is understood Hodgson may go some way to managing Ferdinand's game time by resting him for the San Marino match - which England are overwhelming favourites to win - and draft him in for the vital game against Montenegro a week on Tuesday.
The manager is certainly not looking too far ahead where Ferdinand is concerned and said: "Rio might be fit in September, October, November, he might be fit next June.
"I'm not bothered about the long-term future at the moment.
"Every time I select a squad, it is the right squad I hope for the games and I make certain I can justify it in my own mind and also in the face of any questions I receive.
"I've put a squad together here which is a good squad, the right squad and I think I can justify it.
"I'll let September, October, November and June take care of themselves. I'll cross the bridge when I come to it."
Hodgson accepts he owes a debt to Ferguson with his willingness to give young homegrown players a chance to flourish at United, with seven of Hodgson's squad for the forthcoming games based at Old Trafford.
Hodgson said: "We are lucky Sir Alex has not overlooked the young players like (Tom) Cleverley, (Chris) Smalling, (Phil) Jones and (Danny) Welbeck.
"He has given them plenty of opportunities to play and that has been good for us.
"We profit by the fact they are playing for what is currently the top team in the country and are getting international experience as well.
"It means in a situation where there are a lot of teams that have very few English players, I'm fortunate that in Manchester United, the country's top team, there are a lot of English players.
"I profit from that and take advantage by selecting them."