Redknapp: We need five more wins to stay up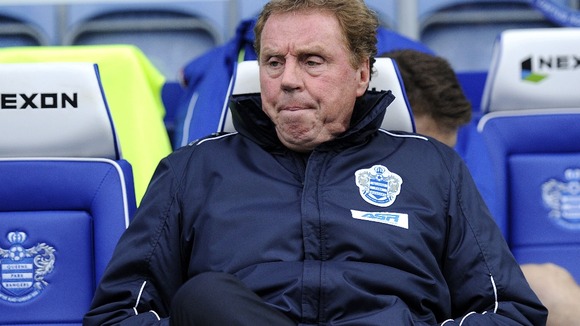 Harry Redknapp admits QPR may have to more than double their win tally for the entire season in the final eight games if they are to achieve Premier League survival.
Rangers' hopes of staying in the top flight suffered a huge setback when they were beaten 3-2 at fellow strugglers Aston Villa yesterday, with Christian Benteke scoring a late decider.
They are now seven points adrift of safety, despite their recent revival and spending spree during the January transfer window.
But Redknapp believes his side are playing well enough to give him hope, even though he concedes QPR will have to probably better the four wins managed in the opening 30 games of the campaign.
He said: "The result at Villa will have a big bearing on the rest of the season and it's opened up a gap with Southampton winning as well.
"It's going to be tough but we are still in there and are playing so well at the moment.
"I thought we were excellent against Villa and, before that, in the wins against Southampton and Sunderland.
"We probably need to win five out of the last eight games. It's hard to do when you haven't won that many all year. But it's not impossible."
Only the brilliance of Villa goalkeeper Brad Guzan prevented QPR from wrapping up the game in the opening 45 minutes after Jermaine Jenas had put them ahead.
But Gabriel Agbonlahor equalised on the stroke of half-time, then Andreas Weimann put Villa ahead and, after Andros Townsend had levelled for Rangers, Benteke settled the issue.
Redknapp said: "We should have been three or four goals up at half-time. We were so much the better team, it was almost embarrassing in the first half.
"But they scored in injury-time, hit us on the break, and I bet they came in at half-time not believing their luck because they should have been out of the game.
"They rode their luck and got away with it when they should have been dead and buried by half-time."
Redknapp admitted the loss of striker Bobby Zamora through illness at half-time was a turning point in the game at Villa Park.
He said: "When we lost Bobby, I thought it would give us a problem because we suddenly didn't have anyone to hold the ball up. We didn't have that focal point to our team.
"But he was struggling and had to come off. He'd had the flu all week, hadn't trained all week. We patched him up today but he felt rough at half-time."
Villa achieved back to back Premier League wins for the first time in 22 months to move six points clear of the bottom three.
Manager Paul Lambert can see encouraging signs that his team young players are starting to develop.
He said: "It was the first time since 2011 Villa have won two games on the trot and that just shows you the magnitude of it.
"The young players have been coming on since the turn of the year in the way we have played and grasped the Premier League and what it's about.
"The team have at times been criticised pretty heavily, but hopefully now people will start to give them the praise that is due.
"They deserve a lot of credit for what they are doing right now.
Everyone keeps mentioning we are a young side, but they are growing which I can see every day and every week.
"If you continue to grow something, then hopefully it will grow into something you want to have."
Lambert admits there is still work to be done before Villa make sure of their Premier League status.
He said: "Six points is a good cushion but you look at the fixtures and the league is relentless, really tough.
"Are Villa safe? I'm not so sure. I also wouldn't write QPR off. Look at the experience they've got, they are full of top players and have a fantastic manager. You never write anyone off.
"We can enjoy the international break, will give the lads a few days off, and then they will come back ready for Liverpool."