Eden Hazard is an absolute pleasure to play with – Frank Lampard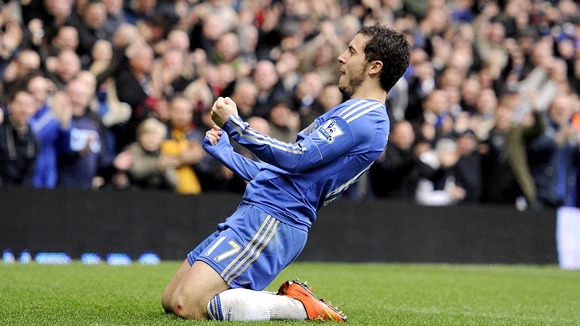 Frank Lampard believes that Chelsea team-mate Eden Hazard has the potential to become one of the world's best players.
Chelsea capped a positive week with a 2-0 defeat of West Ham yesterday to climb above Tottenham into third place in the Premier League table.
Lampard scored his 200th Chelsea goal, which was set up by Hazard, who netted a solo strike in the second half.
The England midfielder believes the Belgian signed for a reported £32million from Lille last June has similar qualities to Gianfranco Zola.
"He's got the world at his feet and he can handle the pressure because he's that good," Lampard said.
"He's only 22 and with the way he's playing and the ability he has on the ball, he is scaring the life out of people.
"He's very laid back, a great character and not too much bothers him by the look of it and that's the way he plays, it reflects in his game. His ability and speed off the mark, and the way he's able to turn on a sixpence is what all great attacking players have, and he's got it in abundance.
"Zola did it throughout his career, while Eden's at a relatively early part of his career, but what he's showing now is glimpses that he can be in that bracket and be one of the top players in the world, and I hope he carries on doing it because he's an absolute pleasure to play with."
In Oscar and Juan Mata alongside Hazard, Lampard believes Chelsea's future is bright.
He said: "These guys provide a lot of hope for the future. They can make special things happen."
Whether Lampard is a team-mate of the tricky trio beyond the end of the season is unknown as the 34-year-old's current contract is due to expire at the end of the season after 12 years at Stamford Bridge.
Lampard played alongside Zola early in his career, but really developed into the goalscoring midfielder he has become once the Italian playmaker left.
For Lampard to score his 200th Blues goal and his 14th of the season against his former club was extra special following his £11million move across London in 2001.
"It was very satisfying, both personally and as a team," added Lampard, who moved within two of Bobby Tambling's club goalscoring record and soaked up the acclaim from the crowd at the final whistle.
"It's a special personal achievement because the fans were amazing when I did it.
"When I first signed for the club I would have been pleased to play 200 games, let alone score 200 goals, so I'm really happy.
"From the minute I came here the fans have been brilliant with me and I love them. I'm very much a Chelsea person."
Following the international break, Chelsea face six games in 16 days, beginning with the Premier League clash at Southampton and including the FA Cup quarter-final replay with Manchester United and the Europa League last-eight tie with Rubin Kazan.
Lampard hopes a tumultuous season will finish positively.
"People talk about fixture congestion, but it's a great thing for the club because it means we're still in with a chance," Lampard said.
"I suppose the league is our priority because it's our bread and butter, but we have a couple of chances to win some cups so we have to spread ourselves and we have to be determined to try and win them.
"We're at the business end of the season and we need to make sure we win something and secure Champions League football for next year."