Wigan boss Martinez backs selections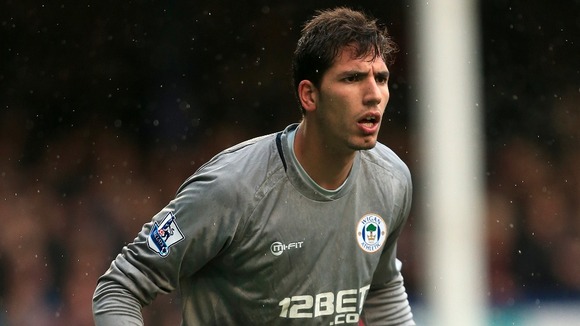 Wigan manager Roberto Martinez is determined to pick players on form and not reputation and that will concern goalkeeper Ali Al Habsi and captain Gary Caldwell more than most.
The experienced pair were both dropped for the first time in their Latics' career and watched as their team-mates secured a vital - if controversial - late 2-1 win over Newcastle.
Martinez kept faith with the same side who dumped Everton out of the FA Cup the previous week to reach an historic semi-final debut for the club.
And the Spaniard is adamant his selection policy will follow similar lines as they step up their bid to escape relegation.
"The message in the dressing room is very simple: if you play well you keep your place, if you don't you can't progress," said Martinez.
"That is a situation we are in. There is real good competition, daily standards are high and I will let football make the decision.
"I will assess what happens on the pitch and we will take it from there for the next game.
"I felt the team which played against Everton deserved continuity and we showed a real togetherness and character which has given us three points.
"We have a very competitive squad and we have a unique situation at the club where we are involved in two competitions in mid-March - something which only happens at top clubs."
Wigan's win, their first at home since November, was crucial in ensuring they remained only three points from safety with a match in hand, even if that is against Manchester City.
It was overshadowed by Callum McManaman's horror tackle on Newcastle defender Massadio Haidara.
Martinez admitted he was happier discussing that and other matters on the pitch rather than his decisions taken off the field.
"I can understand people talking about the tackle but I prefer talking about that to (talking about) the players I dropped," he added.
"I knew there was going to be a lot of focus on the players not in the starting line-up but I am pleased we found a way of earning three very important points.
"There are always talking points but overall, looking at the chances we created compared to Newcastle, I think we had the edge."
Martinez has defended 21-year-old McManaman - who made his first Premier League start almost four years after making his debut - and will continue to do so, insisting no-one should accuse him of being a dirty player.
"Callum does not have a record, no-one knows what type of player he is," said the Latics boss.
"He couldn't be a nicer boy and I hope we see a lot more of him because he is extremely talented."
Wigan chairman Dave Whelan has also thrown his support behind the player.
"The ball was there and McManaman got the ball as clear as a whistle, then followed through and they collided," he told BBC Radio 5 Live.
"He hasn't gone over the ball. That's an accident. There is not one ounce of malice in [him]. He was very upset by it all."
Haidara has undergone a scan on his knee and thigh but Newcastle have yet to disclose what that has shown up.
The Magpies left the DW Stadium doubly aggrieved as the injury to Haidara was compounded by Aroune Kone's 90th-minute winner which came via a Maynor Figueroa handball.
Full-back Davide Santon scored his first goal for the club to equalise Jean Beausejour's first-half effort but his joy was short-lived.
"I wanted to dedicate it to Massadio. My emotions are with Massadio. I'm really disappointed for him and the result," he told the Evening Chronicle.
"I didn't see the tackle but I did see Massadio's knee. It was a really bad and a lot of blood was coming out - everybody said the tackle was really bad.
"We must win games for Massadio. I feel sorry for him. Every win is for him and Mathieu Debuchy (who sustained a hamstring injury) because they didn't deserve these injuries.
"Injuries are the worst thing. They can change how you think and how the team plays when important players are missing.
"We can only now think about the next game against Manchester City. They are a strong team and it will be difficult.
"We must make sure we get 40 points and stay in the Premier League."