Bundesliga round-up: The Champions League contenders lack bottle
by Ben Loder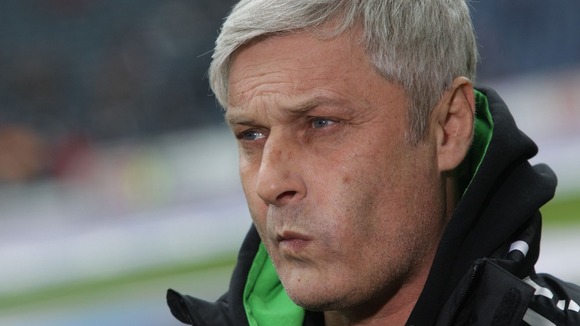 German sides seem to be doing their best to avoid qualifying for next season's Champions League, as the contenders repeatedly drop points.
Newly promoted Frankfurt impressed everyone with the first half of their season, but rumours of coach Armin Veh switching to Schalke seem to have unsettled the ship, and Eintracht hadn't scored in five games before this weekend. Executive chairman Heribert Bruchhagen threatened to drown Veh's dog in the river Main if the 52-year-old manager doesn't extend his contract, but Veh is insisting on assurances that money will be available to strengthen the squad before he puts pen to paper, and has no canine concerns, saying, "I can tell Heribert doesn't know my dog. He would be the one who ended up in the Main."
Frankfurt did break their scoring duck on Sunday, but it wasn't enough to prevent VfB Stuttgart picking up what was only their second win in ten games, as they lost 2-1. Despite that loss, Frankfurt actually moved above Veh's suitors in Gelsenkirchen, who contrived to lose 3-0 to Nürnberg with a performance that even the 19-year-old Julian Draxler recognised as "naive". Michael Wiesinger's Franconians are now unbeaten in ten at home and finally look safe from the drop. It's back to square one for Schalke, however, who slipped out of both the Champions League and the qualification places for next season within a week.
But Schalke may yet benefit from the carelessness around them: Freiburg were hammered by Dortmund, Mainz only drew against Hoffenheim, and HSV remain suicidally inconsistent. The Hamburg club missed out on the chance to win three on the bounce for the first time this season with a wasteful 1-0 home defeat against Augsburg. Manager Thorsten Fink had strong words for 22-year-old forward Maxi Beister, who came on as a substitute despite reportedly failing to impress in training, and got himself sent off just ten minutes later for lashing out at opponent Daniel Baier. "I only brought Beister on because [Marcus] Berg is ill. I'd rather have taught him a lesson. But now he's further down the pecking order," Fink admitted.
Bayern Munich supremo Uli Hoeness last week offered similarly harsh criticism of his team's recent efforts, blaming their mentality for the "rubbish performances" that he had seen coming, claiming "the players believed the media hype". Nevertheless, on Saturday evening the team again got the result they needed without a glamorous display – in the end Philipp Wollscheid's own goal was the difference as they saw off Leverkusen 2-1 at the BayArena. Bayern remain 20 points clear at the top and could yet seal the title in March if they beat Hamburg and Dortmund drop points in Stuttgart after the international break.