Northern Ireland v Russia called off due to icy weather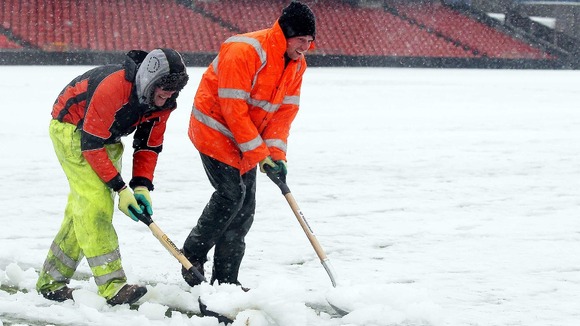 Northern Ireland's World Cup qualifier against Russia has fallen foul of the weather for the second time in 24 hours, with hostile conditions rendering Windsor Park unplayable.
The Group F clash was initially due to take place last night but heavy snow and plummetting temperatures in Belfast saw the fixture postponed after three inspections by Norwegian referee Tom Hagen and the FIFA delegation.
A revised kick-off time of 3pm today was set but with no let-up from the elements the referee decided to cancel the fixture, which will now need to be fitted in elsewhere in the limited international calendar.
Conditions in the Northern Irish capital were arguably even worse last night, with city centre power cuts adding to the problems.
Officials, including representatives from both associations, met again at 10am and the decision was made an hour later.
In Northern Ireland, IFA head of communications Geoff Wilson told Press Association Sport: "We are very disappointed the game has had to be postponed again and every effort was made to ensure the game went ahead today.
"Unfortunately that has not been possible. When the snow was lifted it became apparent that cold temperatures had led to ice forming on the pitch and the safety of players was an issue.
"We will now have to sit down with our counterparts from the Russian Federations and decide when we can stage the fixture."
While those behind the scenes will attempt to find a mutually acceptable window for that match, the attention of manager Michael O'Neill and his players will turn to Tuesday's clash against Israel.
That game would surely have been cast into doubt had any match been possible this weekend - with Windsor Park highly unlikely to cope with two games in four days.
As for Russia, they will depart Northern Ireland this afternoon for London, where they are due to play Brazil in a glamour friendly at Stamford Bridge (live on ITV4 and ITV.com on Monday).
The IFA may come under some criticism for failing to arrange for covers to be made available at the ground, though staff members did do their best to battle the elements.
Dozens of employees, up to an including IFA chief executive Patrick Nelson, were shovelling snow from the pitch yesterday and efforts were under way to get fans involved just minutes before Hagen and his team confirmed the game would not be going ahead.
A statement issued via social media read: "Calling all NI fans...please come to Windsor Park and help clear snow from the pitch.
"Bring shovels. Game is still in doubt however the referee wants to assess the whole pitch."
Subsequent messages through the same outlets then told supporters to stand down.
A subsequent message added: "We realise that the request for help was quickly followed by the official postponement, but it was the referee's decision due to the ice."