Nigel Adkins takes Reading manager's job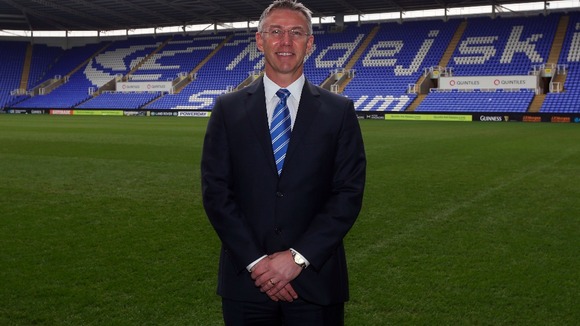 Nigel Adkins was keen to draw a line under the past after being appointed as Reading`s new manager this morning.
The 48-year-old has signed a contract until summer 2016 to replace Brian McDermott at the Madjeski Stadium, returning to football after a two-month break.
He was surprisingly sacked by Southampton in January despite securing back-to-back promotions and will now lock horns with his old side in a battle for survival.
Reading are in a more perilous situation than the Saints - they are second bottom and seven points shy of safety - but meet Adkins' old club in his second game.
A trip to Arsenal comes first, though, and Adkins wants to forget about the past.
Speaking for the first time since he left Southampton, he said: "I`ve not made any comments since I left Southampton and I want to take the opportunity to thank all the people there.
"I thank the fans, the players and supporters. We were on a fantastic journey but we have to move on now.
"I am pleased to be the Reading manager. We will take it one game at a time and try and keep this club in the Premier League.
"Its a good club, Ive been impressed with them and Ive always known what sort of club it is. Were in the Premier League and we want to stay there. I am excited."
Many had sympathy with Adkins after the way he was treated at Southampton and it is typical of how things fall that they will be his second opponent.
Survival, however, is Adkins' primary focus.
"I cant talk about Southampton as its in the hands of the League Managers' Association," he added.
"I am looking to the future, Ive had two months out and gone around Europe, Im excited about the future and passionate about playing football."
Reports had suggested Brightons Gus Poyet was Readings top target with Adkins not thought to be interested.
He addressed that, though, saying: "When it happened with Brian I was in Germany and Reading wasn`t on the agenda at the time.
"We`re now looking forward to the next stage together."