Wayne Rooney will keep his cool in Montenegro this time – Gary Neville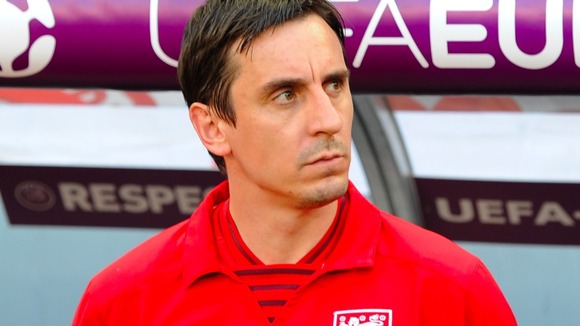 Wayne Rooney will keep his cool against Montenegro, insisted Gary Neville as he launched a defence of the player against claims he has failed to fulfil his potential in an England shirt.
Speaking exclusively to ITV ahead of the key World Cup Qualifier tonight at the Podgorica City Stadium, the England coach says critics of the much-decorated Manchester United striker are setting the bar at an unrealistic level of comparisons with 'Pele or Maradona'.
In the interview, to be shown as part of ITV's coverage of the match starting at 7.30pm, Neville says Rooney remains England's main attacker and predicts the player, who was sent off against tonight's opponents in 2011, will be targeted by the Montenegrins, but will not react on this occasion.
Neville is asked by ITV Sport reporter Gabriel Clarke whether Rooney would be specifically targeted by the Montenegro players and tips him to keep his cool:
"Well you would do [target Rooney], wouldn't you. You look at the Poland game – [Moldova had a] man sent off, they had a man sent off in Moldova, and they [Montenegro] will try and put lots of tackles in on Wayne Rooney.
"But Wayne on Tuesday evening will keep his cool, I've no doubts about that. There will be absolutely no repeat [of the red card], I mean at times in his career Wayne has reacted but he's no different to any player who wanted to win that I knew."
Asked if England should win, Neville says, confidently: "Oh, of course we should win. I've never gone into an England game not thinking we can win - maybe a bit naïve, but I never thought that way.
"We should be confident that we can go and beat them – they're talented players and they can all handle the ball. However if England play as England play, we've got fantastic players who should be able to handle it."