Jol thinks Redknapp can drive QPR to safety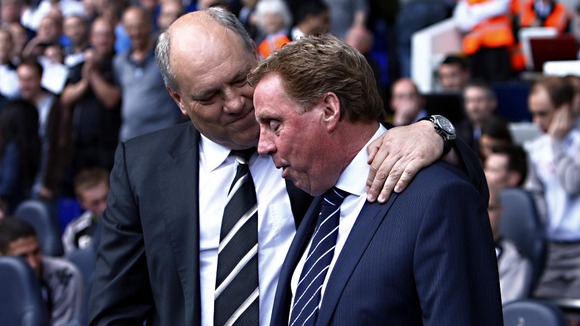 Fulham's Martin Jol and QPR's Harry Redknapp are big pals away from the managerial dugout but there will be precious little goodwill on show when their two teams meet in the west London derby at Craven Cottage tonight.
A win will place mid-table Fulham just one short of Jol's 40-point safety target while QPR, who lie second from bottom on goal difference, are scrapping for their Premier League lives.
Jol insists there will be no favours, although he believes Redknapp can still secure survival.
"I have no preference (who goes down)," said Jol.
"But I won't say I would like them (QPR) to go down because I like Harry Redknapp; he's a fantastic man and good manager.
"At the end the league won't lie.
"They will fight to the end because there's still 24 points (to play for) and that's a lot.
"If QPR manage to win four or five they still have a chance to stay up."
Jol is not content with just securing survival for Fulham, he wants the team to finish as high as possible.
Asked about his target, he said: "The higher the better for the club and for the players, because some of them have bonuses in their contract if they are in the top six, top eight, top 10.
"But that's a financial thing. I would like to be in the top 10."
Meanwhile, tonight, Jol's side will come up against former Fulham striker Bobby Zamora, who has been passed fit to face his old team-mates.
Zamora left Craven Cottage for Loftus Road in January 2012 but Jol has few regrets at losing a player with a dubious fitness record.
"Bobby wanted to move," said Jol. "He felt he could help QPR. Hopefully, after our game, he will help them. If he is fit he can help any team because he is a good striker.
"When he played he did ever so well but he missed 30 or 40 per cent of the games.
"If he was fit he was selected for the national team.
"He has got all the qualities, but when Bobby was not there we had a problem up front and that is why we changed it and now we have Bryan Ruiz and Hugo Rodallega and Dimitar Berbatov and most of the time they are fit to select."