Rodgers insists Suarez will stay at Anfield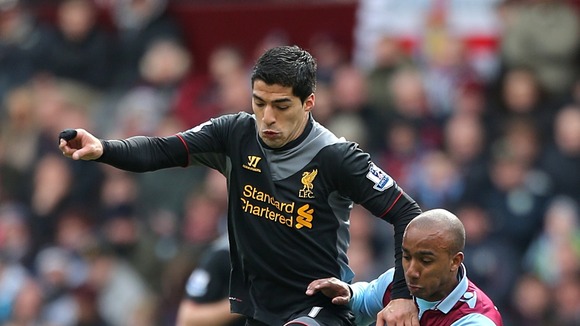 Brendan Rodgers insists Liverpool have no need or wish to sell striker Luis Suarez and confirmed skipper Steven Gerrard will be offered a new contract after the pair sparkled in the 2-1 win at Aston Villa.
Suarez was a constant threat throughout despite his midweek exertions with Uruguay and lengthy travel schedule, although he was unable to add to his 29 goals this season.
But he won the second-half penalty converted by man-of-the-match Gerrard to keep alive Liverpool's slim hopes of achieving Champions League football.
Rodgers stressed his focus is on adding to the squad rather than letting players go.
Rodgers said: "It is very important we keep hold of Luis. He is a wonderful player.
"He came back late on Thursday, was in training on Friday and I saw how tired he was. He looked totally shattered from all the travel and all the exertions of the games.
"But you look at him at Villa, his energy and willingness to work for the team and just his sheer quality.
"We don't have to sell Luis. There is nothing like that. He is very happy and we don't need to sell him for the money or anything like that.
"Our job is trying to build the group here and add to it. We've bought front and midfield players and we want to keep striving forward and there is no need to sell."
Rodgers also believes "inspirational" Gerrard can play into his late 30s and revealed he needed an injection in his heel to enable him to play.
But it did not affect his performance and the England captain converted the winning penalty after Reds midfielder Jordan Henderson cancelled out the opener from Christian Benteke.
Rodgers said: "Steven had to get an injection in his heel to play. We had an issue with his heel for a couple of days.
"He had a bit of pain and was struggling to get his boot on. But for him it was a case of whatever it takes to play.
"It was nothing major but many other players might not have played or even trained. That shows the mentality and mindset of the man.
"Can Gerrard play on into his late 30s? Absolutely, no question about that.
"Guys who do that like Giggs, Scholes, McAllister, it is not what they are doing now, it is what they have done earlier in their careers, when they were 17, 18, 19, 20."
As regards a new contract, Rodgers said: A new contract is something on the agenda. It will happen in due course."
Villa remain in the bottom three but manager Paul Lambert has seen his side climb out of the relegation zone on four occasions this season and continues to take heart from their performances.
He said: "For 45 minutes we were excellent, we competed brilliantly, we looked a threat every time we went forward against a really good side.
"The goal two minutes after the restart was disappointing to lose but we are playing well enough to win games.
"We are four points from 11th place. There's going to be some twists and turns.
"The thing for myself is that in spells we are playing really well and confidence is a big part of the game of football.
"If you keep that, then that will certainly help you."