Bundesliga review: Bayern on cloud nine after thrashing of Hamburg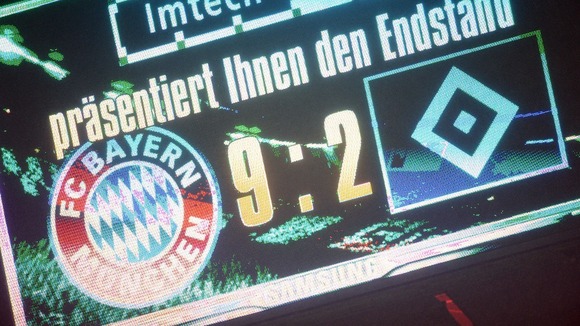 Although nothing the imperious Bayern Munich achieve in the Bundesliga really shocks any more, their 9-2 home win against HSV at least raised a few eyebrows.
And such is the depth of the Bavarians' squad that, despite being involved in a league-record six goals in the match (scoring four), Claudio Pizarro looks set to return to the bench for tonight's Champions League match versus Juventus.
Before the game, HSV had still harboured hopes of a place among the European big boys in next season's competition themselves, but the Hamburg club might now prefer to finish a little lower in order to avoid further embarrassment.
Their fans (10,000 made the 1,500 km round trip) will at least get a chance to "grill" those involved – the club is organising a barbecue, with the costs for beer and bratwurst covered by the players, by way of apology for the debacle.
As ever, "bad cop" sporting director Matthias Sammer was quick to ensure the Bayern players did not get carried away with their success.
Conceding two soft goals from almost identical set pieces as Munich did is anathema to the former sweeper, who complained: "Those are not the first goals we've conceded from corners this season...it has to be a wake-up call, as we can't allow it to happen again against Juventus."
Bayern's champagne had been put on ice before their evening kick-off, as Borussia Dortmund had already ensured that Jupp Heynckes's side would have to wait a little longer to be crowned champions by beating ten-man VfB Stuttgart 2-1 that afternoon.
The man dismissed, Georg Niedermeier, might be angling for a move to the Premier League with his aggressive style.
"They were two challenges that wouldn't even be considered an issue in England," claimed the centre back.
VfB have the worst disciplinary record in the division, but manager Bruno Labbadia defended his side's approach on Saturday.
"Dortmund players are not a protected species," said the 47-year-old, in response to criticism by his opposite number, Jürgen Klopp, regarding the physical treatment dished out by the Swabians.
Elsewhere, Mainz proved Bayern aren't the only club capable of setting records – Adam Szalai's 13th goal of the season came less than 13 seconds into their 1-1 draw with Werder Bremen, making it the fastest-ever Bundesliga goal following kick-off by the opposition – whilst wins for Schalke 04 and Eintracht Frankfurt kept them neck and neck in the race for fourth spot and a place in the Champions League qualifiers.
Frankfurt received a boost last week when head coach Armin Veh, who had been linked with Schalke, signed a contract extension.
It could be a busy summer on the transfer market for the club, as Veh reportedly insisted on his kitty for new acquisitions being doubled before he put pen to paper.
"We won't know whether we are right to take the [financial] risk until later," admitted executive chairman Heribert Bruchhagen.
With the bottom three – Fürth, Hoffenheim and Augsburg – all losing, there was little change in the battle for survival.
Things are changing – again – at Hoffenheim, though. The club has had a circus feel for a while now, and this morning's news of the sacking of both manager Marco Kurz and the man who appointed him just four months ago, general manager Andreas Müller, was met with little more than a wry smile in the press.
Markus Gisdol, most recently seen as assistant to Huub Stevens at Schalke, is the new man entrusted to save the "village club" from relegation.
Bundesliga highlights will be available on ITV Player later today