Chelsea maestro Juan Mata eyes triple success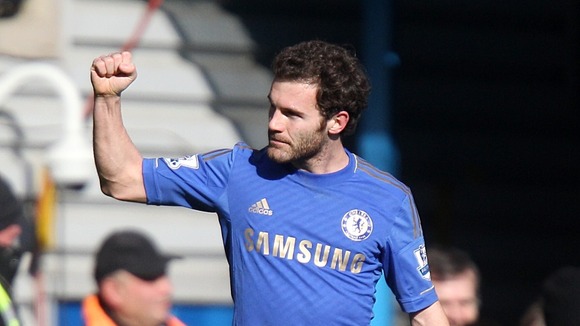 Juan Mata hopes Chelsea can savour success on three fronts at the end of a tumultuous season.
The Blues face Sunderland in the Barclays Premier League tomorrow, where much of the attention will be on Paolo Di Canio's debut as Sunderland manager and their bid for survival.
The impact of relegation would be marked on the Black Cats, who replaced Martin O'Neill with Di Canio, but the consequences if Chelsea miss out on a top-four place and Champions League qualification are unthinkable for those at Stamford Bridge.
Rafael Benitez was appointed interim boss after Roberto Di Matteo's side became the first holders to exit the Champions League at the group stages.
Benitez has steered the Blues into the FA Cup semi-finals and a commanding Europa League quarter-final first leg lead in the space of four days and captain John Terry has urged the Spaniard to turn his focus to the Premier League.
Mata is greedy for the Blues to achieve all three targets.
He said: "Our objective for the season is to win these two titles and to get into the Champions League. That is very important. We still have a lot to play for this year.
"Winning a title this year could be very important, but Chelsea is a club that deserves to be in the Champions League every year and obviously it is our primary objective every season to be in the top four.
"The ideal thing would be to do the little double and get into the Champions League.
"Why can't we do that? We know it is difficult. We are still alive in the Europa League (after beating Rubin Kazan 3-1 on Thursday night), we are in the semis of the FA Cup and in the league we are in a Champions League position. We can do it, and we believe we can do it."
The Sunderland clash is Chelsea's fourth game of six in 16 days, but first in the Premier League since the defeat at Southampton which saw the Blues slip to fourth place in the table.
Benitez was criticised in many quarters for his team selection, but rotation is a must with a congested calendar which Mata believes is only positive.
Should Chelsea reach the Europa League and FA Cup finals, they will have played 70 games this season.
Mata, who has made 52 appearances for the Blues this term, added: "That is good news. It shows that we are going a long way in every competition. Am I tired? Not at all. I'm absolutely fine.
"The job Rafa is doing is for the best for the club.
"He is trying to win. We still have a chance to win two trophies and my opinion is we can do that, and we can turn this into a good season, one which will make the fans happy."
Fernando Torres is Chelsea's only eligible striker in the Europa League - Demba Ba is cup-tied after representing Newcastle earlier in the competition - so is set to drop to the bench tomorrow in preparation for the second leg with Rubin Kazan in Moscow.
The much-maligned Torres scored a double on Thursday.
"I'm very happy for Fernando to score twice," Mata said.
"He deserves all of the goals he scores and everything good that happens to him.
"He is training really well, working hard for the team and we are all really behind him and highly delighted for him.
"Are we favourites? There are other teams that deserve that title: Spurs can still win in the away leg in Switzerland and Benfica recorded a great win against Newcastle. Every side can win the competition."
Boudewijn Zenden has a foot in both camps, having played for both Chelsea and Sunderland.
But his loyalties are firmly with Chelsea, where he is now assistant first-team coach.
Zenden told Chelsea TV: "The fact they changed manager is to try to create some kind of reaction.
"It's up for us to make sure it's not at Stamford Bridge."