N'Diaye: Sunderland win in Tyne-Wear derby paramount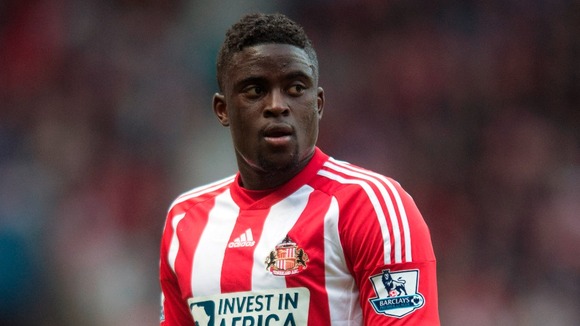 Sunderland midfielder Alfred N'Diaye believes victory in next weekend's Tyne-Wear derby with Newcastle is now imperative in the battle for Barclays Premier League survival.
Sunderland took a half-time lead at Chelsea in Paolo Di Canio's first game as manager yesterday but conceded two goals early in the second half to fall to a 2-1 loss.
Next for the Black Cats is Newcastle on Sunday at St James' Park, seeking to avoid their winless run extending to 10 games.
"Everybody was disappointed because, as a minimum, we wanted to get a draw from the game," N'Diaye said in the Sunderland Echo.
"We thought we could get that. In the first half, we looked dangerous and had chances.
"I thought we played very well and were unlucky because Chelsea only had two or three chances to get a goal.
"Just before they equalised, we had a corner and 30 seconds later, they scored. That's not good.
"It's not good mentally for us to concede so early in the second half. We went into half-time 1-0 up, we had a corner and 30 seconds after, they'd scored a goal.
"It's very bad that things like that can happen.
"Every time we think we play well and fight, it doesn't matter. We need points.
"We've not won a game in two months and that's not good. It's not normal.
"Now we don't have a choice. We need to win games, against Newcastle and Everton."
Midfielder Craig Gardner will miss the Newcastle match after picking up his 10th yellow card of the season at Stamford Bridge for a foul on Demba Ba.
Striker Danny Graham was absent in west London, with the full extent of his knee injury still to be revealed.
Di Canio replaced Martin O'Neill following the defeat to Manchester United, tasked with seven games to secure Premier League survival.
Now, following the defeat to Chelsea, he has six.
The controversial Italian issued implied criticism of predecessor Martin O'Neill following the loss at Stamford Bridge, saying his players could be fitter and show more energy.
"After the game against Man U, the coach told us we were in for training on Monday," N'Diaye added.
"I just thought I'd come in as normal on the Monday and Tuesday.
"But when I was at home, the secretary texted me to say there was a change of coach. It was a big surprise for me.
"The new manager is obviously different than Martin O'Neill. We've done a lot of tactical training over the last week.
"We obviously didn't have too much time before the Chelsea game. But sometimes, we've not even been working with the ball, just doing tactical stuff on the pitch in groups.
"I don't want to say Martin O'Neill was a bad manager. They're both good managers, just with different approaches.
"But we're all enjoying it."