Phil Jones: Derby defeat overshadows goalscoring display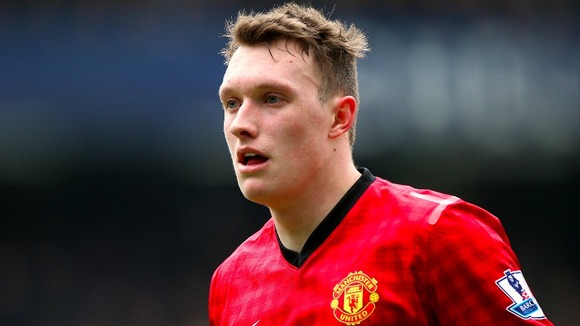 Phil Jones could not care less if he does not get credited with Manchester United's goal at Old Trafford last night - all he was interested in was the result.
Jones celebrated United's second-half equaliser as though he had scored it.
At the time, he was not aware his header had actually bounced off Vincent Kompany's back before rolling into the Manchester City net.
The problem was, it did not do his side any good as they were eventually defeated by Sergio Aguero's late effort.
And with United's lead at the top of the Premier League now cut to 12 points, Jones was in no mood to claim what would have been his first goal of the season.
"It's irrelevant whether I score or not," said Jones.
"As long as we win I don't care."
Although United's 18-match unbeaten run is now at an end, Jones earned plenty of personal praise for his display at the heart of the home defence. It was only the fourth time in an injury-hit campaign that the former Blackburn man has started in what he regards as his natural position.
Former Red Devils manager Ron Atkinson, covering the game for MUTV, was impressed enough to state Jones could go on to play centre-half for England in next summer's World Cup.
Jones certainly relished the experience.
"I enjoyed it," he said. "I like playing centre-back and hopefully I can play a few more times before the end of the season."
Although it seems unlikely United will throw away the championship in the same manner as last season, it does mean their celebrations are now on hold for at least a fortnight.
"We have to keep our heads up because we are still in a fantastic position," he said.
"The lads deserve an enormous amount of credit and hopefully we can go on and win the league.
"We have to get back on the training pitch and do what we do best - recover. I am sure we will."