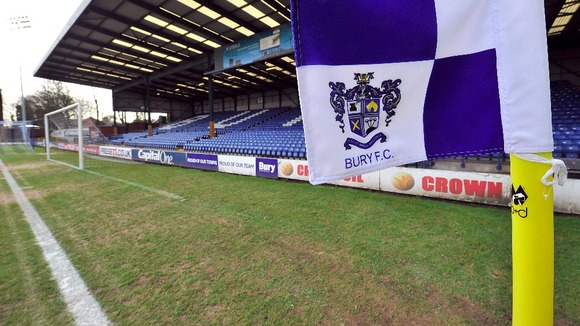 Bury have undertaken "positive discussions" over potential new investment as the stricken npower League One outfit continue to battle for their future.
A statement on the Shakers official website yesterday made an appeal for £1million of external funds to prevent the club from closing.
Boss Kevin Blackwell held a press conference this lunchtime and insisted he remained in the dark over the latest developments, with a board meeting at Gigg Lane ongoing at the time.
But shortly after 3pm, Bury released a statement to Press Association Sport from the board of directors that painted a marginally brighter picture than a day earlier.
The statement read: "Following the statement posted on the club's website yesterday, the board can confirm that we have had positive discussions with potential investors to secure the long-term future of Bury Football Club.
"We anticipate that the investment funds being requested will be used to continue running the club in a normal trading manner which would include paying outstanding creditors and season ticket commitment.
"We would hope that supporters will continue to support the club in the remaining fixtures."
Bury lie bottom of League One and will have their relegation confirmed if they lose at home to neighbours Oldham on Saturday.
They were placed under a second transfer embargo this season in February after once again approaching the Professional Footballers' Association for a short-term loan.
Earlier, Blackwell insisted the severity of Bury's situation should not be under-played.
"I would have to say so," he said when asked if the club's existence was under threat.
"I've not ever seen a statement like (Wednesday's) from a football club before.
"I don't think you can get any more honest than saying the club is going to fold, so we must be in massive, massive danger and I think that's why they (the board) have obviously gone out and done what they've done
"We need people with money into the club. It's clear that we've been embargoed since December (the first embargo) and if it hadn't been for people helping pay the wages we'd have struggled to get here now.
"As it happens we continue to go back to the PFA to get funds and we don't come out of that now until May.
"We turn up at games with two or three people, four people on the bench. It makes things very hard and as a manager I feel like I've let my team down because I can't bring the players in to help the players that I've got. I've got some good players here.
"Some lads aren't earning a lot of money at all but at this moment in time the club have, to be fair, honoured their wages at this point.
"Clearly the situation is 'where do we go from here?' and I think that's what everybody wants to know."