Stoke boss Tony Pulis up for the fight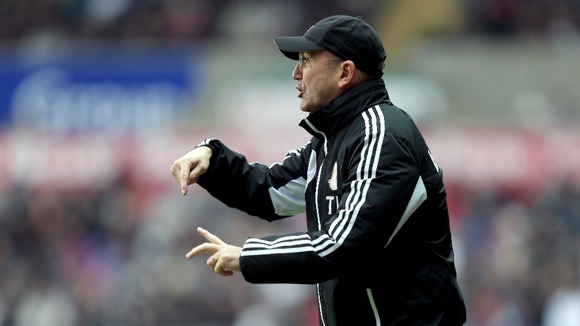 Stoke manager Tony Pulis has attempted to fire up his players by telling them a relegation battle is a challenge to embrace and enjoy.
The Potters have slipped into trouble at the bottom end of the Barclays Premier League after winning just one of their last 13 games.
They are only three points above the bottom three ahead of this weekend's testing home clash against runaway leaders Manchester United and many fans have made their concerns clear.
It is certainly a worrying predicament for a club that has generally seen little but progress since Pulis took charge with the team in the Championship in 2006.
There has been a promotion, an FA Cup final appearance and a Europa League campaign - and no concerns about relegation until now.
Pulis said: "You never saw me doing somersaults down Wembley Way when we got to Wembley twice.
"And I won't be jumping off a tree hanging myself because results haven't been (good). I'm not that type of person.
"I accept that in life, and in football, you are going to have good times and bad times. It is how you deal with it.
"You take the good times, you deal with them, and you take the bad times and deal with them.
"In adversity, most probably, is when you show your strength of character.
"Hopefully, fingers crossed, the lads will enjoy this challenge.
"This is not a challenge not to embrace, it is a challenge to enjoy because we haven't had this before. "We have got six games to go, 18 points to play for.
"There is never a negative with me as long as the points are there to be gained.
"I think the most important thing is the players look at it that way as well.
"It is a challenge - not one to hide under the table from - and I am certainly looking forward to it."
Stoke were poor as they were beaten 3-1 by another struggling side - but one with momentum - in Aston Villa last weekend.
They threatened to claim a barely-deserved draw when Michael Kightly equalised with 10 minutes remaining but a stunning volley from Matt Lowton effectively killed them off before Christian Benteke struck in injury time.
The crowd had made clear their feelings with sporadic booing throughout and Pulis himself has also come under fire from fans.
The Welshman said: "As a manager you have got to accept that you are going to get criticism at times, and the players have got to accept it.
"We have had seven fantastic years but I certainly haven't got carried away with it.
"I know what's around the corner and it can happen any minute. You have to be level, keep your feet on the ground and keep working."
Despite the dissatisfaction, Pulis' position does not appear to be under imminent threat and his supportive chairman Peter Coates this week visited the training ground to emphasise his backing.
Pulis said: "People question everything when things are not going well.
"I get fed up of saying this but I'm very fortunate that I have a family (the Coates) who are absolutely fantastic.
"Peter has been more concerned about me than anything else. He is such a wonderful fellow.
"It has always been the same, the relationship is very strong.
"This week he has popped down - he doesn't usually - and had a cup of tea and a bite to eat with all the players and had a chat with them. He is very good."
Pulis has even been looking ahead by flying to Denmark last weekend to view potential transfer targets, including Copenhagen striker Andreas Cornelius.
Pulis said: "He was one that was mentioned. Whether we do any business is another thing.
"We have got targets and people we have monitored all season that we are keeping tabs on."
Pulis is hopeful Matthew Etherington and Marc Wilson will recover from knocks to face United while Glenn Whelan is fit after a back injury.