Arsenal manager Arsene Wenger wants more technology in football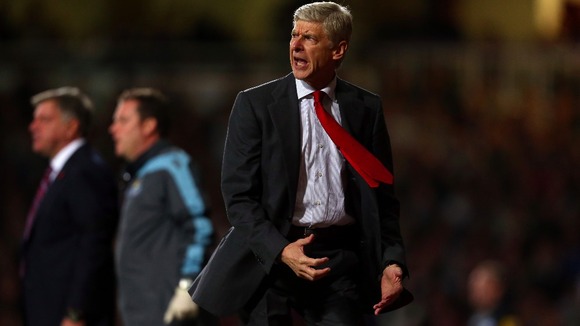 Arsenal manager Arsene Wenger has welcomed the use of the Hawkeye system in the Barclays Premier League from next season - but claimed the new technology does not go far enough.
The move comes as a direct result of a goal scored by England's Frank Lampard at the 2010 World Cup against Germany, but which was not spotted by officials and so led to FIFA president Sepp Blatter performing a U-turn to help bring in the changes.
The Hawkeye system - with German set-up GoalControl to be used at future FIFA competitions - will instantly send a message to the referee that the ball has crossed the line via a special watch, while television audiences and crowds in stadiums will also be able to watch replays of the decisions.
Wenger, though, insists football must embrace more new technology innovations - like for key offside rulings - to help eradicate any perceived injustice, such as those in this week's Champions League semi-finals where Borussia Dortmund netted controversial late goals to knock out Malaga.
"It's good news and I hope there is more good news to come on technology because we want the right decisions to be taken. The more assistance the referees get, the better it is," said the Arsenal boss.
"When you look at the level of refereeing that you have seen again in Europe this week, it is absolutely disastrous what happened. The major decisions that have gone wrong in the Champions League, football cannot accept that lasts.
"When you have four players that are offside and nobody sees it, how can that happen? In the same action, another player is offside and scores a goal, and we stand here and defend that? It is not defendable."
Arsenal saw their hopes of Champions League success in the 2006 final scuppered by what Wenger felt was an offside goal.
The French coach continued: "I would at least like to see that in major decisions, where you go to a semi-final of the Champions League final or not, that the referee has the opportunity to check if the goal is valid or not.
"I think you cannot say 'we love football' and accept that these decisions are made, and go home and say 'okay, sorry bad luck. Next time we come back'.
"For me it has nothing to do with financial involvement or financial involvement at all, [it is] just to do with justice."
Wenger added: "I don't believe [technology] would slow the game down at all if it is done in the right way.
"I am amazed we are just resistant by principle in our sport to move forward for more justice.
"If it is to get more decisions right then we all have to fight for it."
Wenger feels overall the standard of refereeing in the Champions League "has been very poor" this season with "many, many decisions that have been wrong."
On the use of an extra official behind the goal, the Gunners boss noted: "The least you can say is that it is not convincing.
"I can show you an incident, when we played against Bayern Munich, the defender kicks the ball out in the corner, in front of the [extra] referee, the linesman gives a goal kick, the guy who is behind the line says nothing at all and he lets him give a goal kick.
"It is difficult to understand why is really the part of their contribution."
UEFA, under the leadership of Michel Platini, continue to resist the introduction of goal-line technology - meaning next season's European competitions will continue under the current format.
Wenger said: "The controversy is not good for football. What is good for football is the right decisions.
"We all accept that if we play against a team that is better, and that we lost, 'congratulations, bye bye', but it is frustrating to lose against a team when you know it's just down to the decision of the referee.
"For example in the first game, Paris St Germain against Barcelona, they score a goal that is two metres offside. You have a guy behind the goal line and he doesn't say it was offside.
"You can go through all the games, there are major decisions that have gone wrong.
"We can say 'yes, that's part of the game', or we can say 'let's try to improve it'.
"I am more willing to try to improve it and the technology can help."