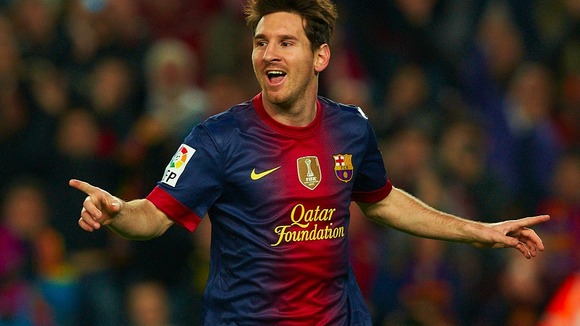 There are two intriguing ties in this year's Champions League semi-finals including Barcelona against Bayern Munich.
Champions League draw:
Barcelona v Bayern MunichDortmund v Real Madrid
The ties will be held 23/24 April and 30 April/1 May.
The draw means there will not be a repeat of three seasons ago when Primera Division rivals Barcelona and Real Madrid met in the semi-finals, with Borussia Dortmund drawing Jose Mourinho's side.
Madrid, who are semi-finalists for a record 24th time and in the final four for the third successive season, will play the second leg of their semi-final against Dortmund at home.
They avoided a final-four clash with Barcelona, who are making a record sixth successive semi-final appearance, but instead will face the only team still unbeaten in the competition this season.
Dortmund scored twice in injury time in their quarter-final second leg tie against Malaga to progress to the last four for the first time in 15 years.
Watch highlights: Dortmund trouble Real at the Bernabeu earlier this season in a thrilling 2-2 draw
Bayern chairman Karl-Heinz Rummenigge is relishing a test against a side he holds in such high regard.
"Barcelona are the benchmark for me in Europe. They have won the Champions League more than any other team in the recent years," Rummenigge told UEFA.com.
"They are the best team in Europe at the moment, with fantastic attacking potential.
"We played them in 2009 and received a real thumping. I remember that game well and I don't really like to think about it, because it was quite painful to watch. However, it's a wonderful opportunity to show that we have improved a lot since then."
Rummenigge also denied that playing the opening match at home is a disadvantage.
"I think we will see two very good games, played at the highest possible level," he said.
"Furthermore, I think playing at home first is a slight advantage, contrary to the popular belief that it's a disadvantage.
"We saw that against Juventus, where people said that it might be a disadvantage. But we produced a great performance at home and that set the stage for the return leg and our progression into the semi-finals.
"I'm really excited that we will get to play the best team in Europe. I still feel Barcelona are the big favourites to win the Champions League."
Meanwhile, Borussia Dortmund general manager Hans-Joachim Watzke was pleased to have drawn a Spanish opponent and avoid an all-Bundesliga tie with Bayern.
Dortmund have already played Real twice in this season's competition, winning the first Group D meeting on home soil 2-1 before drawing 2-2 at the Bernabeu.
"We are happy with this draw - not because we think it's an easy one, but because the Champions League is an international competition and we wanted an international game rather than a national tie against Bayern," Watzke said.
"I don't think Madrid will be afraid because of what happened in the group stage.
"They will respect us, just like we will respect them."
Bayern will play Barcelona on 23 April and May 1, while Dortmund and Real will face each other on April 24 and 30.